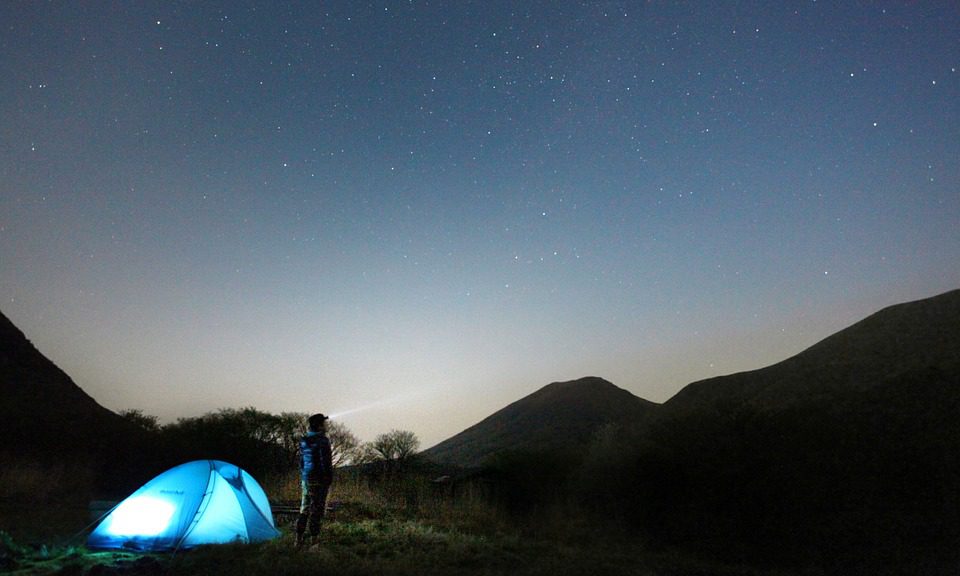 Best Budget Backpacking Tents
Best Budget Backpacking Tents
Not only is a tent one of the major purchases you might be looking to make as you prepare for your backpacking adventures, but it could also be one of the largest and heaviest items you have to pack. Unfortunately, tents are no exception to the general backpacking equipment rule that the lighter it is the more expensive it is. Fortunately, there are tents out there that will fit any budget. You just have to know where to look.
To get you started, we're going to show you a few of the best budget backpacking tents that will not only fit within your financial means but will also protect you from the elements without breaking your back.
But first, a note about sharing. If you aren't planning on backpacking solo then share a tent with your adventure buddies. Spread the weight around by separating the poles, stakes, etc. and reduce weight for yourself. Along those same lines, one big way to save money on a tent is not buying one. 🙂 If your friends' already got one, just share with her, especially if you're just getting started. You can always buy your own later when you've got more money or are getting more serious about backpacking.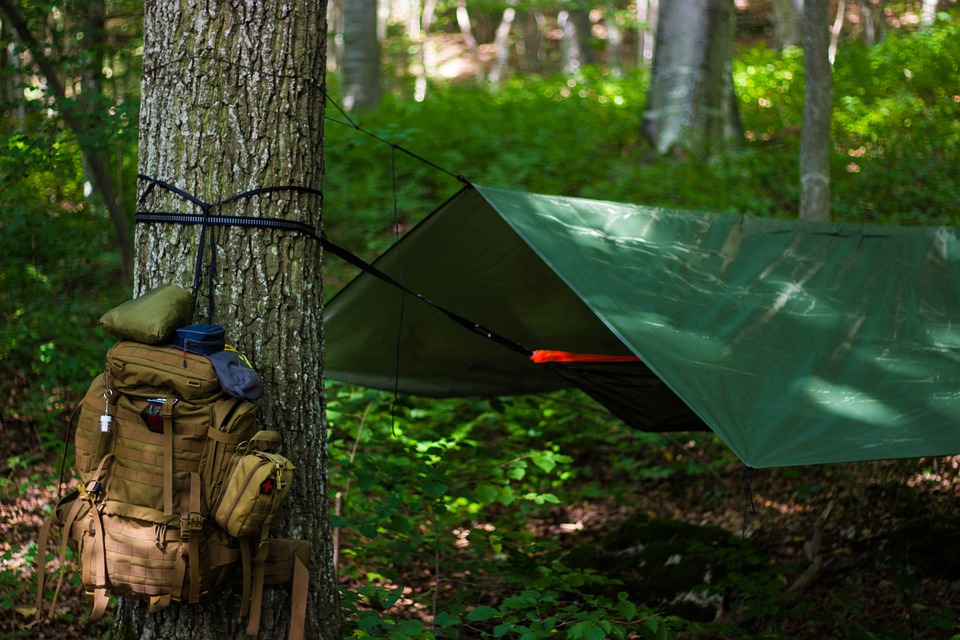 This is one of THE most inexpensive and lightest tent options ever. Period. Depending on the tarp your purchase you can have yourself a shelter for as little as $15 bucks. Maybe less. (On the other hand, you can also find snazzy, expensive tarps out there as well, so the price point is up to you.) Tarp shelters are great for hammock camping!
You're going to need a tarp, some cordage, tent stakes, and a ground tarp if you're into that kind of thing. (Ground tarps are good for protecting your other, more expensive gear like sleeping bags and pads.) Some would recommend a bug net as well, but whether or not you need one of these largely depends on where you plan to backpack.
Yes your tarp tent, unlike a traditional one, will have openings that you can't close. But for warm-season camping, you might be surprised how much this doesn't matter. The other downside to this method, strike that, let's not even call it a downside. Another upside to this method is that you get to learn some cool knot-tying skills in order to set it up.
A short list of useful knots to know for your tarp tent:
Trucker's hitch
Bowline
Taut-line hitch
Prusik Knot
Fisherman's knot
We'll try to get some knot tying instructional videos up on the site here as soon as possible. Until then, feel free to browse Youtube university to get yourself going.
If you're not feeling the whole "tarp thing" then read on.
The Results are In
As I research these topics for you, one of my favorite things to do is put the question to the general backpacker community. I don't want to give you my opinion alone because wisdom can actually be found in crowds when it comes to this sort of thing.
I asked as many people as I could for their favorite sub ~$150 backpacking tents, many, many people responded and the results, surprisingly, came to an overwhelming consensus.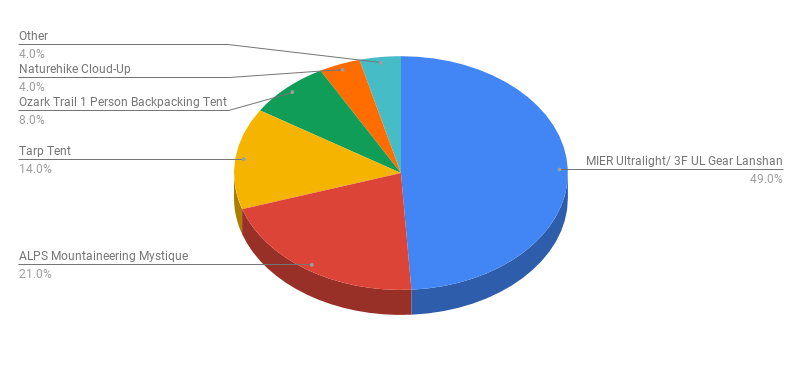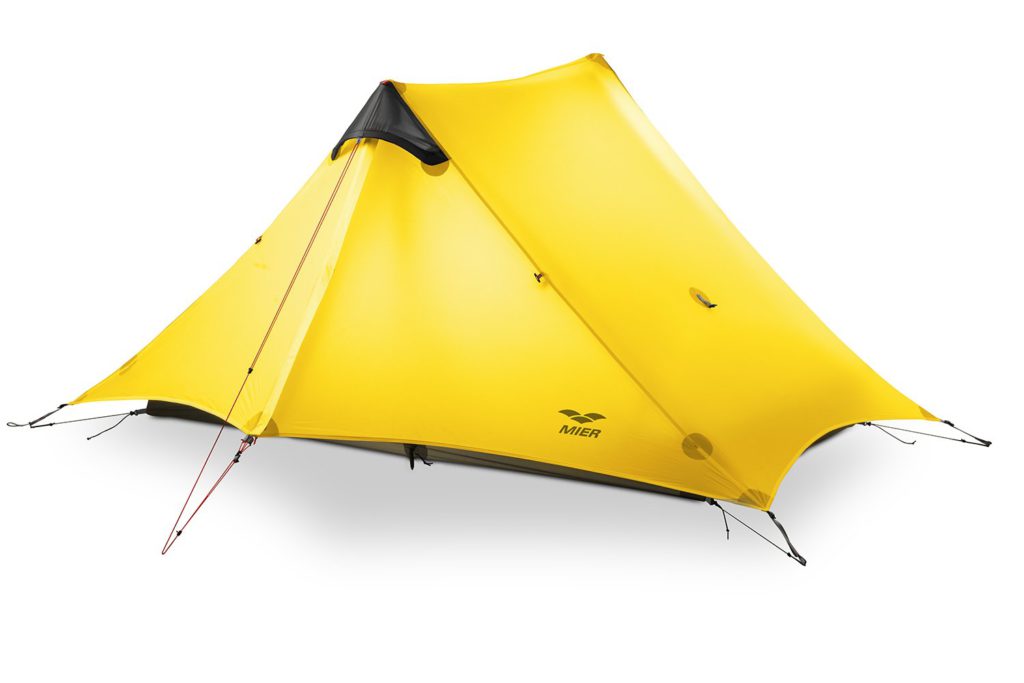 Many people chose the MIER as their favorite tent, and many others said the Lanshan. But, in actuality, these tents are one and the same, hence why they are combined in the pie-chart. The only difference is that you can buy the Lanshan from aliexpress, which means it may be cheaper but potentially ships a lot slower. So I'm going to talk about them as if they're one and the same, feel free to buy them from whichever merchant suits you.
The MIER is a very small backpacking tent that lives up to its ultralight name. The 2-person version packs down very small and only weighs 2.5 pounds which is pretty great for a tent at this price point. The 1-person tent is even lighter!
There's a door on each side for easy access, especially if you're stuffing two people into the tent. The rainfly is waterproof and the inner tent has a bathtub floor. You can set the rainfly and inner tent up independently of each other if you want just a tarp tent or a view for stargazing. A footprint is not included but you can purchase one for a bit of extra cash.
Setup requires trekking poles which could be a downside. If you don't plan on carrying poles, then this tent is not for you. But despite using poles for its support and it's lightweight design, the MIER can withstand very strong winds without fear of collapsing.
==> CLICK HERE TO CHECK IT OUT <==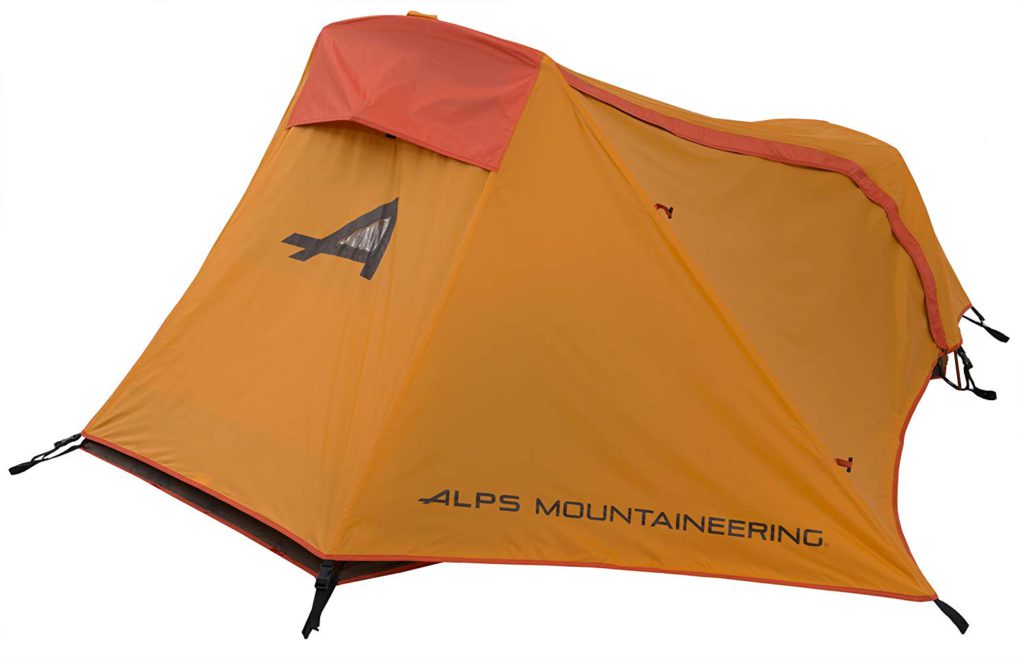 In second place comes this little ALPS tent. It's a 1.5 person so it might fit you and your dog depending on how big you are (or how big your dog is.) This is the lightest model in the ALPS line, and unlike the MIER, comes with 2 poles. This, of course, increases its weight to a minimum of just over 4 pounds.
The Mystique is a non-freestanding tent which means it requires the support of its guy lines to hold its shape. Stakes are included. It also has dual doors with large vestibules for storage and of course, a weatherproof rainfly.
One of the Mystiques major draws is that it is very easy to put up and take down. Also, the fact that ALPS is a reputable brand that stands behind its products with a limited lifetime warranty, doesn't hurt.
==> CLICK HERE TO CHECK IT OUT <==
Yes, you can buy this tent at Walmart and no, that does not automatically mean the tent is low quality. So let's not be snobs here, we are looking for bargains after all.
There are a couple of different versions of this tent. One version, at 2.6 pounds (43oz), is just slightly more than the MIER ultralight above, and it comes with its own poles so you don't have to carry trekking poles if you don't want to. The other version is heavier at 3.4 lbs costs less than half as much.
Even at more than twice the cost, the 43 oz Ozark Trail tent is an absolute steal at a price point of under 80 dollars. Unfortunately, it is difficult to find this tent in stock. We'll link you to the page and if you find it in stock, hurry and snatch that tent up before it's gone.
==>Click here to check availability<==
Either tent is easy to set up, has one large door and a vestibule for added storage space. The heavier tent is slightly taller with a tad more floor space as well.
==> CLICK HERE FOR THE 3.4LB TENT <==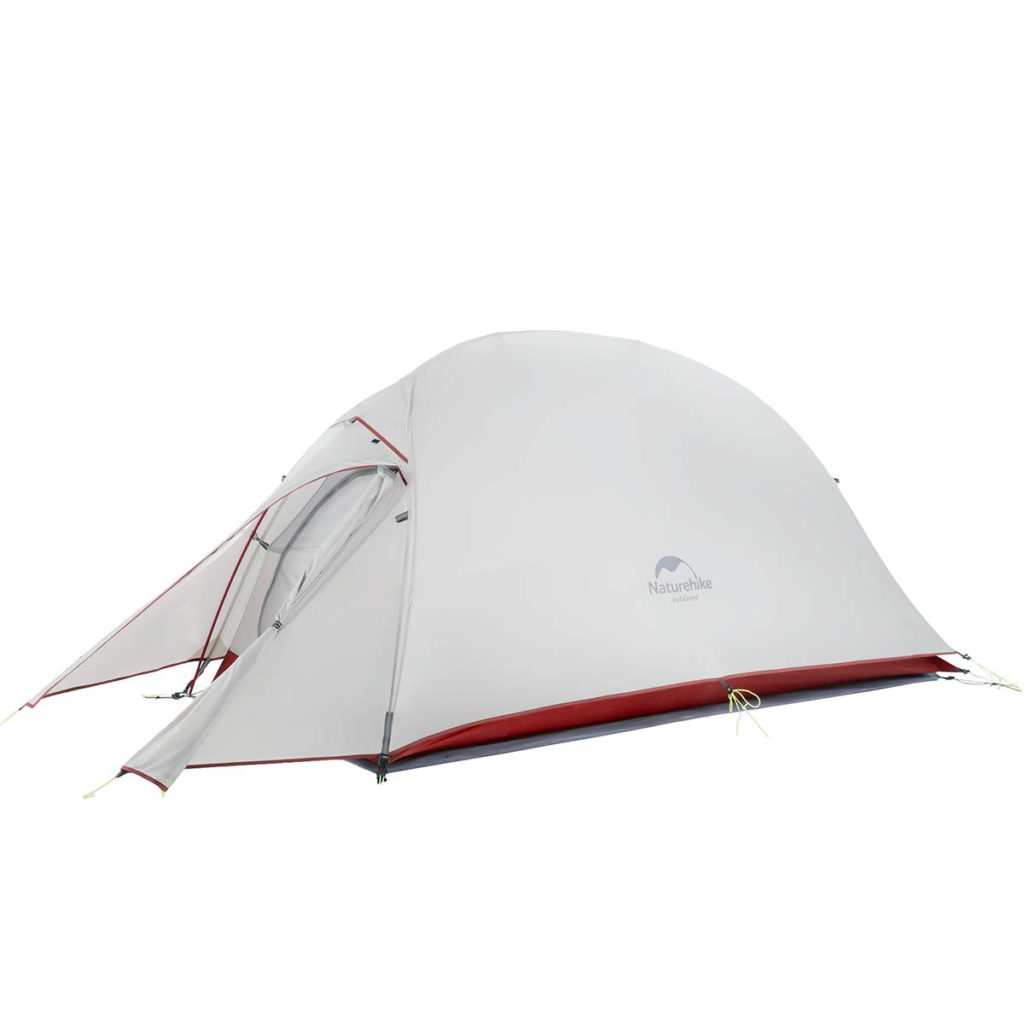 This tent is VERY similar in design to the Big Agnes Flycreek UL 2 but will save you a few hundred bucks if you take the Naturehike Cloud-Up over the Agnes. The doors, poles, and dimensions of both tents are almost exactly the same. The main difference is in weight.
The Cloud-Up weighs in at a 3lb 4oz including all accessories, whereas the Big Agnes Flycreek packaged weight is nearly a pound less. However, the Flycreek is a 3 season tent and the Cloud-Up is a 4 season tent. So the weight difference is understandable.
The cloud-ups double layers and footprint are versatile and can be configured for any season and any weather. Take, only what you need for the situation and shave oz off of your trail weight!
==> CLICK HERE TO CHECK IT OUT <==
Each of these tents came highly recommended by tons of real backpackers, so in the end, decide what you want to pay and how much you want to carry and choose the tent that matches those preferences.
I hope you enjoyed checking out these budget backpacking tents with me. If you end up purchasing one, please come back and tell the community here how it worked out for you.
Until then, feel free to leave us your own recommendations, comments, questions, or concerns in the comments below!
Please follow and like us: