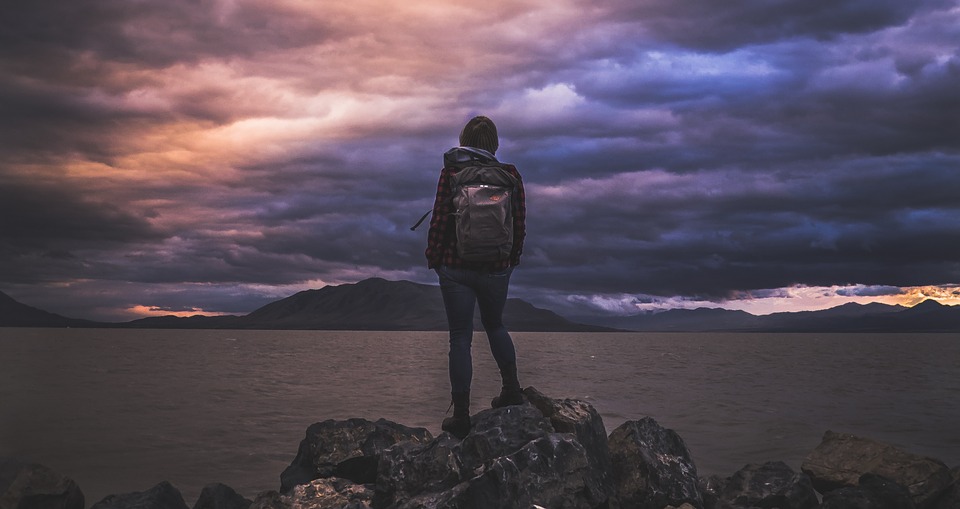 A Beginners Guide to Backpacking – Money-Saving Hacks for the Broke Adventurer
A Beginners Guide to Backpacking – Money-Saving Hacks for the Broke Adventurer
For all of you who are just getting started on your two foot travelling journeys, I want to offer a beginners guide to backpacking. Backpacking can be a wonderful, fulfilling hobby. Many might even call it a lifestyle. But it's not one of those activities that you can just jump right into with no knowledge or equipment.
There are essential skills AND essential gear that you will need, to be both safe and comfortable, on your trips.
So let's talk gear.
There are tons of backcountry products out there, many of which can be considered amenities. And it can get very expensive, very fast.
So if you want to get out there right away but you're lacking funds, how do you separate the amenities from the necessities? And how do you keep the cost down when you want to hit the trails fast but you can't break the bank?
In this post, you're going to learn what gear you will absolutely need before you can start backpacking. We'll cover only the bare bones here, there will be many things you will want to add to your gear stash as you continue backpacking.
But if you're starting from zero, want to hit the trails quickly, and don't want to spend oodles of money right off the bat, then this beginners guide to backpacking is for you! We'll talk about what you can't go without, what you should splurge on, as well as some cheap backpacking gear alternatives that are still effective.
This post is meant to be a starting point and overview, and as such we will not be delving too deeply into any one topic. Keep checking back or subscribe for future posts that will elaborate on each topic we cover briefly here.
There's just no getting around it. If you want to go backpacking, you're going to need a backpack.
You can find off-brand packs for cheap that work well for weekend trips. I have a 55L pack that I bought on Amazon for under 50 bucks.
I've used it a handful of times and I have been quite satisfied with it. It's small so you won't be able to pack a lot of bulky gear in there, which is actually a good thing for novices who tend to pack too much. And it might not work for longer trips but it could be a good starting point for beginning backpackers.
That being said, if you are sure you want to get into backpacking, you may just want to jump on in and get an excellent pack right off the bat. This could be one of those splurge areas and I'm not going to try to talk you out of it here. Spending $150-$200 on a great pack from the start would not be a waste of money if you keep backpacking for a long time.
However, if you are not quite sure if you're going to keep it up, then just buy a cheap pack!
Do you really need a tent?
This may come as a surprise to many of you, but the answer is no. Most people automatically classify a tent as a camping essential. That isn't quite true. Sure tents are nice. They're easy to set up (hopefully) and we trust them. But they can be one of the most expensive, and heavy, items on your gear list.
Remember, we're talking backpacking here. That means carrying everything, including the tent. So you can't just go out and buy your Walmart brand tent for thirty bucks. That tent will weigh fifteen pounds and have you collapsing on the trail because your pack weighs 100.
A good, lightweight backpacking tent could easily run you $200 (or much more). And I'm not saying that isn't a good investment. But this is an easy place to cut your backpacking budget down to size if you're short on cash.
So you've got a couple of alternatives here.
Tarp Shelter
Tarps are a double whammy, both lightweight AND cheap. You can buy one for around 20 bucks! Add some rope and a few tent stakes and 3 people can sleep easily under an 8X10 ft tarp.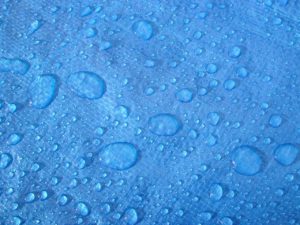 The main drawback (which isn't much of a drawback when you think about it) is you need a bit of skill to set one up. But you've heard of YouTube right? Check out some how-to videos and you'll be able to build a quality tarp shelter in no time!
Let the stars be your roof or wear a burrito
You always have the option of just sleeping under the stars. Of course, this leaves you open to the elements so I would only do this if you're backpacking in a warm dry place. I have successfully slept with no shelter to speak of other than my sleeping bag in the deserts of Southern Utah.
You can also fold a tarp over your sleeping bag, burrito style. This is something that's taught in many boy scout troops and it'll help you stay warm and dry, even if you don't have a perfectly clear night. There are many videos on YouTube that will show you how to make this shelter through simply folding the tarp over you and your sleeping bag, or actually sealing the ends together beforehand to make a bivy bag.
This is a great method that requires no ropes! You could even just have the tarp handy as a backup if your shelterless night gets interrupted by some rain, or if you end up getting too cold.
One warning I will leave is that if you get stuck in a torrential downpour, your burrito will likely not hold up longer than a couple of hours. This happened to me when I got caught in some relentless summer rainstorms in Eastern Wyoming, and it made for a cold, miserable night I will never forget.
Hammock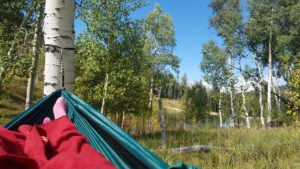 Hammocks can be shelters and camp beds rolled into one. A hammock is an excellent option for the beginning backpacker who is looking to save money because it eliminates the need for a sleeping pad, is easy to set up, and you can find a ton of well-made reasonably priced hammocks on the market.
However, hammock sleeping can be an acquired taste for some. Many people have trouble feeling comfortable while sleeping in a hammock through the night.
But I have found that your comfort depends a lot on your setup, make sure your trees are spaced out enough so that you aren't sleeping in a U-shape. You can also angle your body diagonally across the hammock to open up more space for yourself and avoid feeling squished. Ultimately, you should experiment and find out what works for you to maximize your own comfort level.
The major drawback to a hammock is that the air passing underneath you can really cool you down beyond your comfort levels if you're not prepared. But, depending on the season and location, a warm sleeping bag and wearing layers to bed can successfully eliminate this problem.
Adding a cheap safety blanket underneath you also helps keep the heat in. You can buy one for about 5 bucks and even add adhesive Velcro to help it stay attached to your hammock.
When you're ready to get into the fancy gear, you can buy under quilts and topquilts and all sorts of fancy things to add to your hammock camping setup as well.
And don't forget that a hammock can be combined with a tarp shelter to keep a roof overhead if you're expecting rain. This will help you stay warmer too!
Sleeping Bags and Sleeping Pads
You're going to need a sleeping bag. And don't try to use your flannel bag that weighs 6 pounds and only compresses to about the same circumference of that old pine tree in your grandma's backyard.
When I started out I got buy with a synthetic sleeping bag that I "inherited" from my parents. It didn't compress much but it also didn't weigh a ridiculous amount. I stuffed it into my pack and it took up a lot of room. It was do-able but obviously not ideal.
So if you've already got a sleeping bag like mine and a big enough pack, you can go ahead and use it if that's what you've got to do to get started.
But if you can swing it, I recommend you get a compressible down sleeping bag. Down has taken the backpacking world by storm especially since hydrophobic technologies were developed to make it much more water resistant. Check out this post for the top three recommended down sleep systems.
Great down bags can be quite expensive. But it is possible to find lesser known, quality sleeping bags for around $80. I have a down sleeping bag that weighs about two pounds, keeps me warm in the 40º range and compresses to around 3X8 inches. Unfortunately, that specific brand is no longer available on the market. Just know that bags like this do exist, so check around for them.
You can splurge on the sleeping bag if you want, and get yourself a bag that weighs barely over a pound, is rated to zero degrees, with 800 fill power down, but you definitely don't have to before you're able to go adventuring.
Like I mentioned before, if you're hammocking then you don't need a sleeping pad. But if you're sleeping on the ground, you'll want one.
The cheap, starter way to go is to get a simple closed-cell foam pad. You can get one for around $20. This is not the most comfortable option but it'll get you going. You can add a small piece of egg crate foam, that you cut out of an old mattress topper for comfort.
When you're ready to spend more (around $70-$200), then you can upgrade to an inflatable, backpacking mattress.
Stoves and Pots and Other Things
You may be used to relying on your campfire for all your cooking needs but a stove is a backpacking essential. Many popular backpacking locations do not allow open campfires, and most of the meals you make as a backpacker will be much easier with a good stove.
You've got options here. There are liquid fuel stoves as well as canister stoves. Expect to spend between $50 and $120 on a stove depending on the type you decide to go with. We'll leave all the deep stove discussion for a later post, but a Pocket Rocket or a Jetboil could be a good starting place.
A stove is a necessity so pick one up before you head out there on your first trip, along with some cookware. There are kits you can buy but don't overdo it. Kits often come with a lot of extra things you don't need.
Instead of buying a kit, you can just use an old kitchen pot you have lying around. Remove the handle and use a little pair of pliers instead. Pliers are useful for holding your pot and a whole slew of other duties. Add an aluminum pie tin that doubles as both a pot lid and frying pan, add a plastic spoon and wa-la, you've got a mess kit.
If you've got a good water bottle like a Nalgene or a Hydroflask you can use it to drink any of your hot liquids out of it. No need for a mug. I also like to take a sturdy plastic food container with a lid and use that as a bowl/ plate.
Sharing is Caring
If you backpack with others than you won't necessarily have to accumulate everything on this list yourself. If someone already has a tent then take that one and share the weight. Same goes for a stove and cooking items. But I'd wager you'll still want your own sleeping bag and backpack.
Obviously, this list isn't exhaustive but It was meant to provide some insight into the big, items you will need to get started with your Two Foot Travelling. I hope you found it useful. And I hope you return often to find new posts that delve into the specifics of all of this gear and more.
If you have any questions, comments, or your own money-saving gear advice leave them below!
Please follow and like us: