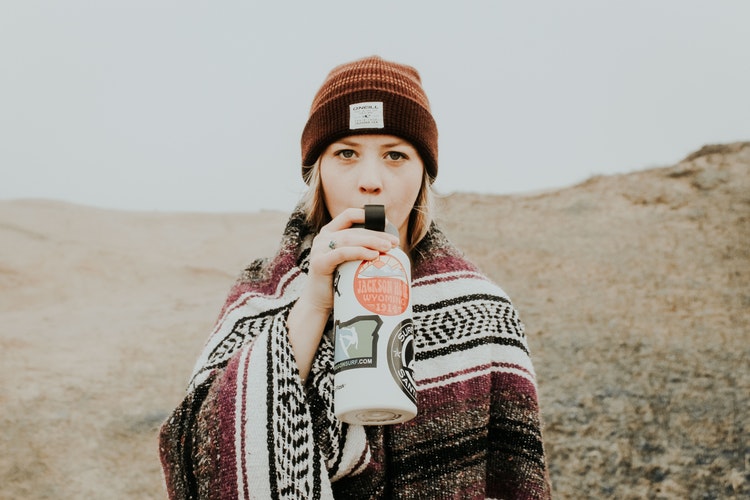 Best Insulated Water Bottles – Keep It Cold, Hot or Anyway You Want
Best Insulated Water Bottles – Keep It Cold, Hot or Anyway You Want
If you're a regular hiker or backpacker and you're still using a disposable plastic water bottle, It's time to get serious. It's time to quit buying water from Wal-Mart. So listen up, and get ready to hear about the best-insulated water bottles on the market.
Why would I want an insulated water bottle?
If you've found this article, chances are you already know the answer to this question. So go ahead and skip this section if you'd like. But if you need a reason, how about to keep cold things cold and hot things hot?
I hike a lot! In the summers I hike every day for work, and often on weekends and vacations as well. And there's nothing more disappointing than anticipating a refreshing drink of water to slake your thirst, only to take a swig and find it tepid or worse, hot!
And besides, water just tastes better when its cold!
Here's another scenario for you. You wake up in your tent on a chilly morning. You make your coffee or hot chocolate or hot Koolaid or whatever. Then you get distracted by other tasks like getting more water, making breakfast, taking your tent down etc. And before you know it, your hot drink is now a cold drink. Good luck trying to warm up now.
Apart from that, water tastes about a hundred times better when you're drinking it out of a steel water bottle instead of a plastic one. Just trust me, it does!
That's why you want an insulated water bottle. It's multi-purpose and good for any situation. I own several and use them all the time! On the trail, in my house, at the airport, at the office, on road trips, always.
So let's get to it. I will share with you my top 3 picks that I consider to be the best-insulated water bottles out there.
Cold: 24 hours
Hot: 12 hours
Recommended Size: 32 oz
Best Place to Buy:
Or from Amazon for free shipping if you have Prime, but it's a little more difficult to find your perfect size/ color combo.
---
Hydro Flask is number one guys. Why? Because, Hydro flask hits the sweet spot in regard to insulation, leak-stoppage, and durability. I personally recommend the 32 oz. wide mouth bottle.
Fill the bottle up with ice, then add water to fill the cracks and you can be sure there will still be ice in that bottle when the day is done. Hydro Flasks website claims that the bottle can keep your drink cold for up to 24 hours and I can back that claim up from extensive field testing. You can even break through that 24-hour limit if you're just using the bottle at home or in some other climate controlled area.
It can also keep your hot drinks hot for up to twelve hours. But be warned, if you put something in there that's just got done boiling, it's going to stay very hot for quite a while. This can cause burns if you're not careful. I know this from personal experience. I recommend you let your drink cool off to a manageable temperature before pouring it into the hydro flask. This is true for any insulated water bottle!
There's almost nothing I hate more than when I purchase a water bottle, stick it in my pack, and later find that it's leaked all over my stuff! There's no place for leaky water bottles in this world! Especially because you can find one, like the hydro flask, that won't leak. I have never had a hydro flask leak on me. However, this is only true for the flex cap. The straw lid is not considered leak-proof.
And finally, the hydro flask is durable. Yes, I have dropped it. I have had it slips out of ripped, mesh pockets on my backpack. And not just on dirt, in parking lots too. The result is that my hydro flask has more than a few scratches, but not a single dent. The steel is sturdy! Some users have reported in their reviews that it dents easily but this is certainly not my experience.
Hydro Flask bottles come in a variety of awesome colors and sizes, are completely BPA free, and have a lifetime warranty.
Downsides? Well, they're a bit pricey. But it's well worth it!
Cold: 90 hours
Hot: 24 hours
Recommended Size: 32 oz
Where to buy:
---
Klean Kanteen is a very close second. It's nearly a photo finish. And, in fact, Klean Kanteen would be number one if not for my experience with its leak stoppage abilities. I have the cafe cap which claims to be leak proof. It's great for ease of drinking, however, I have caught it leaking several times. So I cannot trust it inside of my pack.
However, the other caps offered may have far superior leak containment capabilities. So I recommend you steer clear of the cafe cap.
Klean Kanteen's insulation capabilities are phenomenal! I have had ice in my 20 oz. water bottle after 3 days sitting on my desk! The website quotes the 20 oz. bottle as being able to keep things cold for 48 hours. I have had this personally surpassed by a full day!
The 32 oz. is said to keep your drink cold for 90 hours! Pretty amazing. Granted you will likely drink all the water in your bottle before then, but it's nice to know that Klean Kanteen won't let you down when you're looking for a refreshing sip. It can also keep things hot for up to 24 hours! So don't forget the burn warning from above!
Klean Kanteen's bottles are compatible with a number of caps you can choose from and is also backed by a lifetime warranty! Klean Kanteen's finish makes the bottle strong, chip resistant and also more scratch-proof than the hydro flask. It is also a few dollars cheaper and you can get it shipped free from Amazon.
Thermoflask
Cold: 24 hours
Hot: 12 hours
Best Place to Buy:
---
Thermoflask is my secret budget offering to you. It is significantly cheaper than either the Hydro Flask or Klean Kanteen. You can purchase a 2-pack at Costco for less than the price of a single Hydro Flask or Klean Kanteen. And it fulfills my number one requirement for a water bottle. You guessed it, the Thermoflask doesn't leak!
What's more, the Thermoflask keeps things cold until the day is done. Its insulating capabilities are as good as the Hydro Flasks!
But, being that it is cheaper, the Thermoflask does have a few downsides.
The first downside is that you have to purchase it in a two pack, which may actually be an upside to you if you wanted two of them anyway, and the only sizes offered are 24 oz or 40 oz. Which are above and below my ideal size recommendation. You can find the best price for these water bottles at Costco or Costco.com, where the two pack of the Thermoflask is cheaper than a single hydro flask or Klean Kanteen. *Pro-tip* you don't need a Costco card to purchase things on Costco.com but they will charge you a small extra non-members fee.
But they are not always available. At the time of this article only the 24 oz size is showing up on Costco search. But you can find the 40 oz size on Amazon. It's more expensive than Costco (but you still get two for about the same price as a single hydro flask) so if you want to save some money keep checking back to see if they show up there again.
The final downside is that the Thermoflask dents quite easily. Mine fell out of my truck on my very first day using it and immediately dented. Since then, It's gotten a few more dents. But the good thing is that the dents have had no influence on the working capabilities of the water bottle. They are purely aesthetic blemishes. I've been quite happy with my Thermoflask!
A few things to be aware of
To reiterate, hot things will stay very hot in any of these bottles. Please be careful about filling them with extremely hot liquids. It is very easy to fill it, wait a while, and forget that it won't cool the same as in regular circumstances. If you do this and take a sip you can quite easily burn your mouth, drop your water bottle and burn your skin if it spills. It's better to let things cool to a drinkable temperature before putting it into your insulated bottle.
On another note, it is not recommended to wash any double-wall insulated bottle in the dishwasher. Hand wash only, please!
I hope this article was useful to you in deciding which bottle to purchase!
Have you used any of these insulated water bottles already? If so, leave a comment with your own experience below!
Feel free to ask any questions you may have as well!
Please follow and like us: