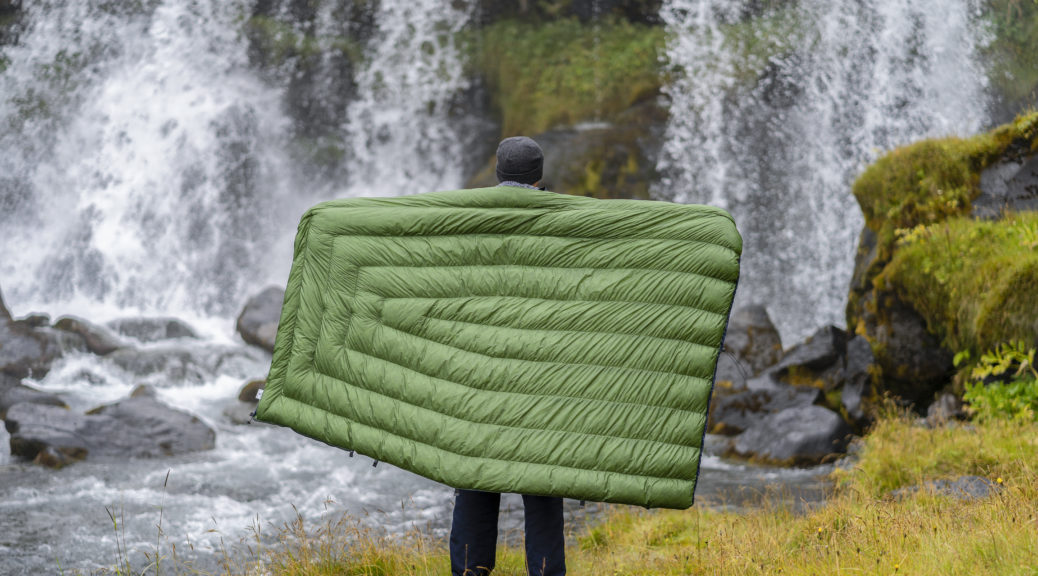 Best Quilts for Backpacking – Real Deal Recommendations
Best Quilts for Backpacking – Real Deal Recommendations
There are literally thousands of sleeping bags out there. They come in all shapes and sizes and are made with all kinds of materials, fills, zippers, and clips. Go ahead and google 'best sleeping bags' and you'll literally get about 400 million results. With that kind of information overload, it's difficult to find out exactly which bags are the best sleeping bags for backpacking.
It's overwhelming, to say the least! You've got brands promoting their own bags, experts testing and ranking the latest models, facebookers recommending their favorites like crazy on your backpacking group, and zillions of product reviews on every online storefront you check. How do you sort through everything and decide which is the best sleeping bag for you?



Well, I'm glad you asked. After weeks sifting through this mountain of information, conducting surveys, and asking backpackers from around the world so you don't have to, the overwhelming answer from the backpacking community is, "go with a topquilt."
The top three sleeping bags recommended by real, everyday backpackers were actually quilts. In this review, we'll check all three of them out in detail and follow it up in a later companion post with the top six sleeping bags that appear the most frequently in reviews from experts like backcountry.com, Outdoor Gear Lab, and REI.
Jump to the comparison table
Real Deal Recommendations
I took a poll asking backpackers around the world to recommend their favorite sleeping bag. Respondents could add their own sleeping bag, or vote for an option that was already listed. Two hundred backpackers responded and three choices rose clearly to the top. All three were topquilts as opposed to more traditional sleeping bags.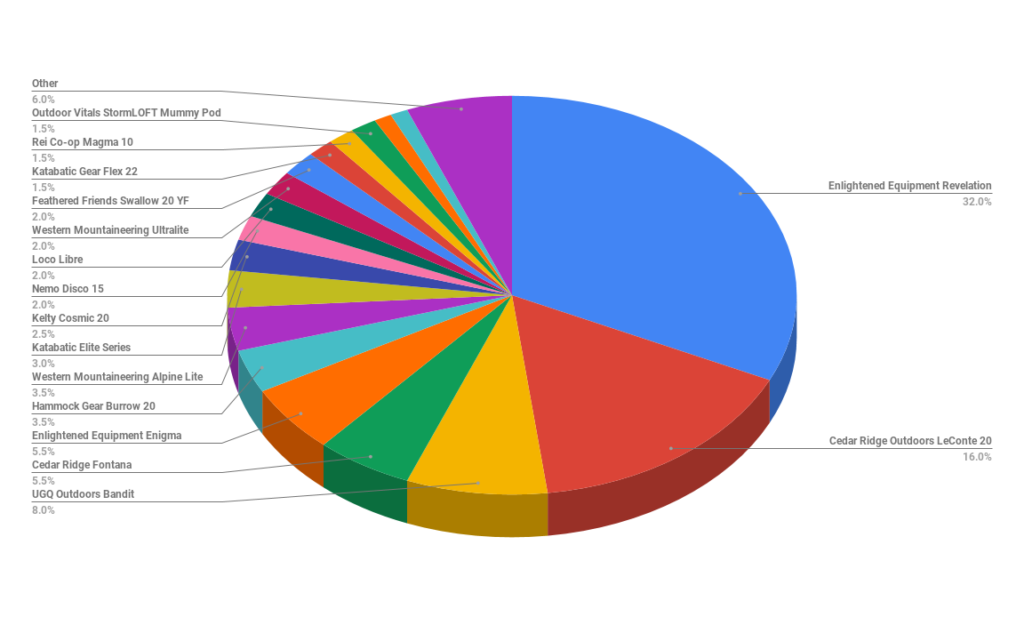 If you're new to quilts, they are a backcountry sleeping option that loses all the heavy and ineffective parts of sleeping bags. Quilts use systems of straps and clips that attach the quilt to your sleeping pad. The clips keep you covered but also allow you wiggle room for a comfortable sleeping position.
If you're like me, you move around a lot in your sleep, and one of the worst parts about sleeping bags are their restrictive nature. For this reason, alone quilts win big points in my book. You are able to leave the straps loose to allow more room while sleeping or cinch them down when the nights are cold.
Quilts allow more versatility and adjustment for different weather conditions.
Temperature Rating: 0º-40º F versions available
User Reported Comfort Rating: Users report the temperature rating to be very generous. You will probably need to add about 10-20º to the temperature rating to gauge an adequate comfort rating
Weight: From 13.34 oz to 1lb 10.1 oz depending on size and temperature rating
Price: $250.00 to $315.00 depending on size and temp rating1
Pros: Versatile, comfortable for all sleeping positions, hydrophobic down, extremely lightweight, great price, well-known reliable brand
Cons: Many find that the Revelation does not provide adequate warmth
Warranty: Limited Lifetime Warranty to the original owner, note that this is the lifetime of the product and not your lifetime. It does not cover normal wear and tear, accidents, lost or stolen items, improper care or cleaning, or negligence
---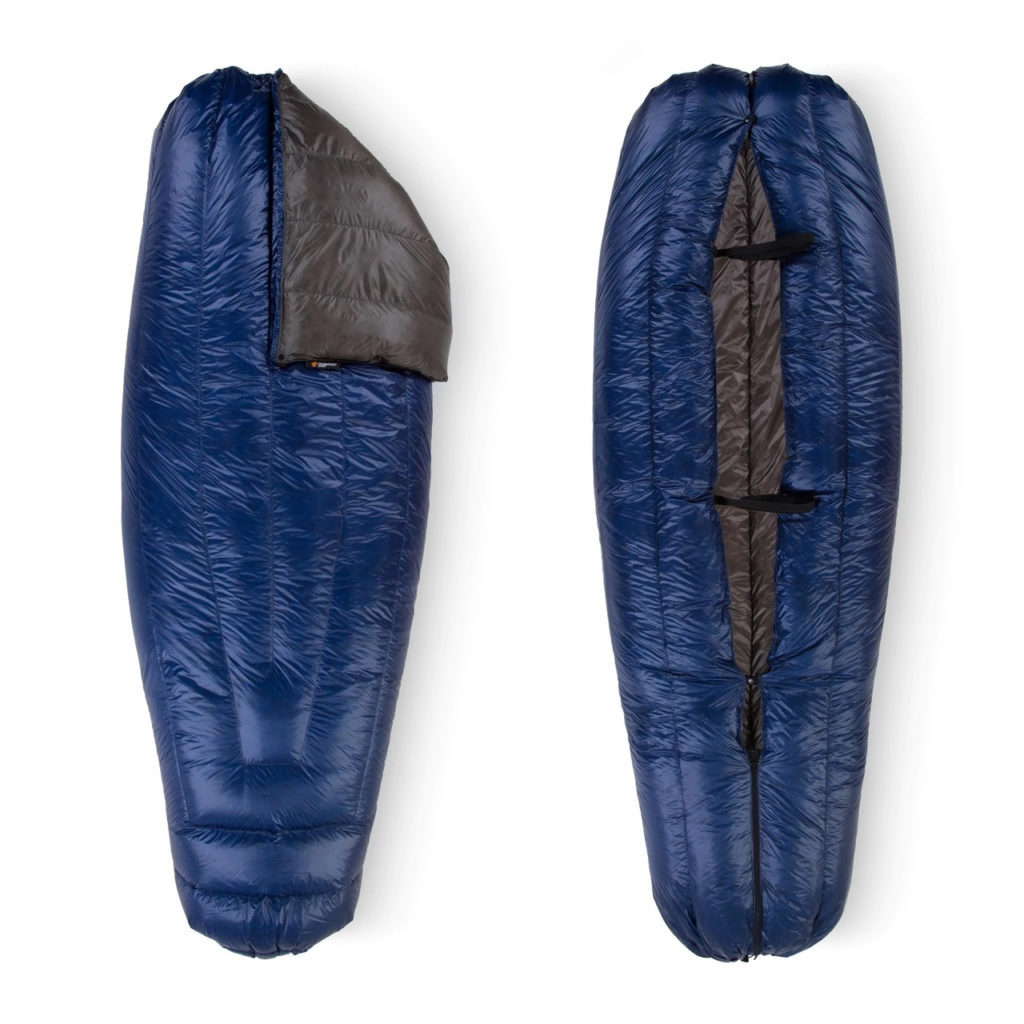 With a whopping 32% of the total vote, the Enlightened Equipment Revelation was a clear winner. And it's no wonder people are loving the Revelation. It's light, warm, and versatile for a very reasonable price range when compared to most other sleep systems within the ultra lite market.
On a related note, the Revelation has a zippered foot box. You can open it completely and use the quilt just like your comforter on your bed at home, or zip it up tight on the chilliest nights. The bag also has a drawstring around the next that allows you to cinch it up tight when you need to.
The down used to fill this quilt is hydrophobic and will resist moisture and dry quickly if it does get wet.
When I first heard about quilts, one concern I had was whether your backside is less protected and therefore much colder. And the answer is that even in a regular sleeping bag, the down underneath you becomes practically useless after it is compressed, so it doesn't make a lot of difference.
That being said, if you plan on frequently backpacking in temperatures that will dip below freezing (32ºF/0ºC) a quilt may not be a good option because it makes it a little harder to control heat loss. The temperature ratings quoted above, mean that you will be able to survive in those temperatures, but you will be far from comfortable.
Stay tuned for a follow-up post that will include more traditional sleeping bags for those intending to backpack in extreme cold.
Many have found the 20º Revelation Quilt to get cold at around the mid 30º range. I recommend adding around 20º to the enlightened equipment temp rating to gauge a better comfort level.
In any case, if you decide to go with the Revelation quilt, or any of the following options for that matter, be sure you have a warm sleeping pad, as that is what will provide the insulation and warmth for your backside.
Temperature Rating: 0º-40º F versions available
User Reported Comfort Rating: Many users have reported being adequately warm in their Cedar Ridge quilts, but be aware that the temperature rating is for survival so you may still want to add a few degrees to gauge a comfort rating
Weight: Depends on length, width and temperature ratings chosen. But it could be anywhere from 11 to 28 ounces.
Price: $195.00-$340.00 depending on custom choices2
Pros: Extremely customizable, the best customer service around, good price
Cons: Because the LeConte is completely made to order it takes an 8-10 week lead time
Warranty: 1-year warranty against manufacturing defects during normal use
---
Cedar Ridge Outdoors opened in 2015 with the goal to bring top quality gear along with an excellent customer experience without breaking the bank. They are not a huge manufacturer and promise to work with customers to bring them the best, personalized gear possible.
All Cedar Ridge products are handmade in Tennessee, and all materials are sourced from US companies.
The LeConte Topquilt is completely customizable. Choose your own temperature rating, length, width, inner and outer colors, and even whether you want blended down fill or 100% goose down. The foot box is larger for a roomier, non-restrictive feel and can be either flat sewn or snap and drawstring.
You can choose from over 50 different color/ custom print options for the outside of the bag, including some weird ones like jellyfish, raw meat, and watermelon. If weird isn't your thing, don't worry there are plenty of normal color options as well.
The customizability is huge, you'll have to take a look at the website to see for yourself.
All that aside, by far the most compelling reason to buy a LeConte is the customer service. Backpackers who have gone with the Cedar Ridge LeConte Topquilt rave about the excellent service received from Warren at Cedar Ridge. If you're unsure about the product features or what you really need for your personal sleeping style and backpacking conditions, he will not stop answering your questions until you are sure enough to make your choice.
For this reason, many people prefer Cedar Ridge over Enlightened Equipment.
If you want a quality, handmade, American made topquilt from a smaller business that cares about you and your individual satisfaction, the Cedar Ridge LeConte is an excellent choice.
All Cedar Ridge products come with a 1-year warranty against manufacturing defects. They will replace or repair your quilt if there are any leaks, rips, or failures to meet your expectations.
The handmade LeConte does require an 8-10 week lead time but if you need a rush order or shipping to a resupply point, Cedar Ridge will do everything possible to accommodate your needs.
Temperature Rating: 0º-50º F options available
User Reported Comfort Rating: Most users report feeling comfortable at the actual temp rating
Weight: Ranges from an amazing 10 oz. to around 28 oz. depending on your chosen custom specifications
Price: $160.00-$355.003
Pros: Highly customizable, isolated chambers for extra down stuffing where you need it, true to temp rating
Cons: Long lead time (however it may be shorter than the Cedar Ridge lead time)
Warranty: Limited Lifetime Warranty to the original owner, note that this is the lifetime of the product and not your lifetime. It does not cover normal wear and tear, accidents, lost or stolen items, improper care or cleaning, or negligence. UGQ offers repairs at reasonable rates for anything not covered by the warranty
---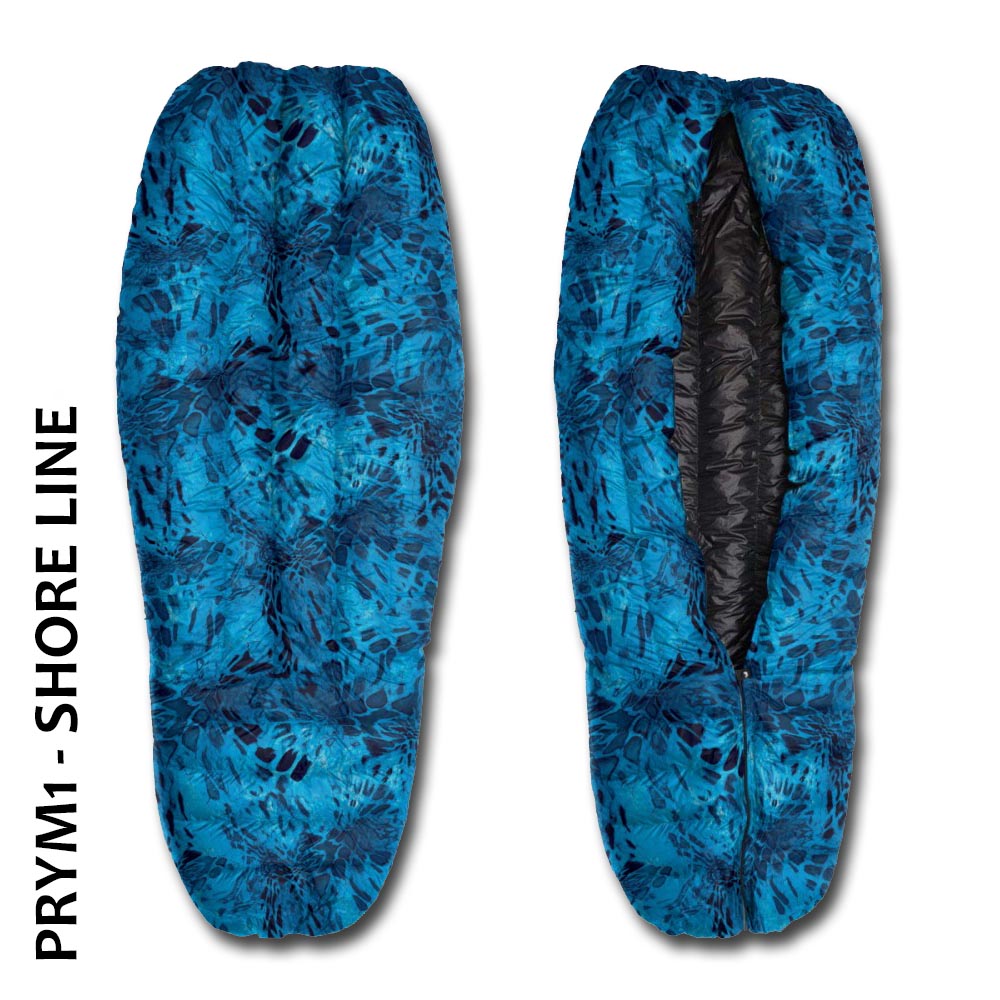 Bandit from UGQ Outdoors is also highly customizable. Just like the LeConte, the Bandit offers multiple temperatures, fill power, and length and width choices. They also have tons of fabric options, size combinations, and colors/ print patterns.
What makes the Bandit stand apart, however, is the concept of isolated chambers
UGQ pioneered this concept with a previous sleep system called the Renegade Quilt. The Bandit incorporates this concept as well as allowing for zone filling. This means you can add extra down into certain zones where you need it the most according to your sleep style.
For example, if you often have cold feet while you sleep, you can order your Bandit with extra down in the foot box to provide for increased insulation in that area. The isolated chambers will keep the down where you need it the most!
The bandit also has awesome foot box options. You can choose from the zipper and drawcord, a flat sewn – boxed foot box, or a lofty, fully insulated foot box if you're expecting extra cold conditions.
You can add a draft collar to help cope with the problem of heat escaping from around the neckline, and you can also choose either full or no taper for your quilt.
UGQ Outdoors has managed to bring the lead time down to 3-4 weeks, not including shipping. However, this lead time is subject to change. You can check out the current lead time on the home page. They also offer fast track quilts that ship the next business day for those who don't want to wait for custom quilts.
Many backpackers reported that UGQ is no second-rater when it comes to customer service as well. They promptly respond to emails and are happy to answer all your questions.
If you go with the Bandit topquilt, you can expect to join hundreds of satisfied customers.
The Verdict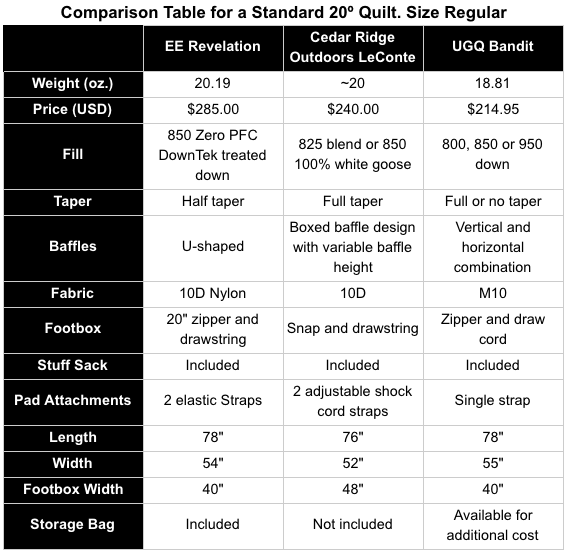 All three of these quilts have been recommended by many, many backpackers, who have tested them out on numerous backcountry trips. It is clear that any one of them would be an excellent choice for your next sleep system.
I hope you have found this comparison review useful and, at the very least, a good starting point for your equipment research. If you have tried any of these quilts please leave your own review in the comments!
And if you have any questions, leave them below and I will do my best to help you out.