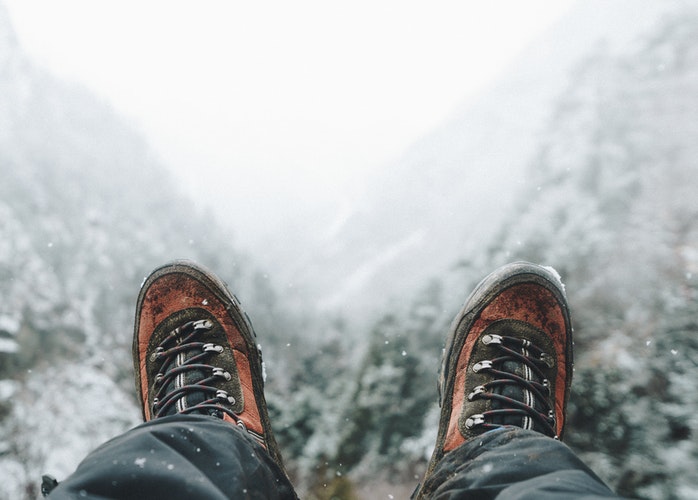 Best Winter Hiking Socks to Keep Your Feet Happy This Season
Best Winter Hiking Socks to Keep Your Feet Happy This Season
Socks are interesting. You hated receiving them for a Christmas gift as a child, but since you've gotten older, they're all you ask for. Maybe that isn't true for everyone but it certainly has been my experience. But socks are not one size fits all, not in size or activity. We need different socks for different purposes.
In this article, we're going to focus on the best winter hiking socks to keep your feet healthy and happy. Socks are even more important than usual when we participate in strenuous activities or activities we aren't used to. Winter hiking and other winter activities fall under this category. So let's get you all the information you need to get your feet properly outfitted.
Jump to:
First, a word about how to wear socks
You may have thought this was a no-brainer but there are a number of things you might be doing wrong that can really affect the health and comfort of your feet. And if you do any kind of hiking, walking or standing (which hopefully includes all of us) you know that when your feet ain't happy, ain't nobody happy.
One of the most obvious things to do, yet surprisingly often overlooked, is to keep your sock out of the dirt, or the snow, or whatever other media you are traversing. When you go to put on your boots don't set your unbooted, socked foot on the ground!
On multi-day trips, change into a clean pair of socks before going to bed. This is especially important in the winter time! Make sure the socks are dry because sleeping in wet socks can lower your body temperature and soften the skin on your feet making it more susceptible to hot spots and blisters.
And finally, remember that you have the option of wearing multiple pairs of socks at a time if it suits your needs. Many people wear a thin sock liner which significantly helps protect against blisters.
OK, now that we've got that out of the way…
Which socks should I wear?
Not all socks are created equal. I made the mistake of wearing an unsuited pair of socks for a quick little winter jaunt and ended up without skin on the outer side of each ankle. A painful mistake. The quality of the material is important if you want to avoid this, and also plays a big role in keeping your feet warm during winter hiking.

Let's take a look at three of the best sock brands for winter hiking. Keep in mind that your choice may also be influenced by the conditions of your environment. Are you hiking in the snow? Will it be very wet? Are you camping overnight? Do your feet sweat a lot? Do your feet have trouble staying warm? Ask yourself these questions as you go through the list and evaluate how well they can fulfill your needs.
Darn Tough has a glowing reputation among hikers of all kinds. Whether you're a thru-hiker or a weekend warrior these socks are built to last, built comfortable and built for you.
Darn Tough has a number of options within their hiking sock category. The Sock you choose will be dependent on your preferences. You can choose from light to full cushioning depending on how much warmth you need, if your feet get very warm while hiking, like mine, you may want less cushioning and vice versa.
You can also select from no-show socks to over the calf-length. I generally recommend staying away from shorter-length socks for winter hiking because you want the sock to protect any skin that may come in contact with your boot, and generally, you will be wearing a taller boot instead of a hiking shoe, or trail runner in the winter time.
You can choose either high-quality merino wool socks or a unique synthetic blend called Coolmax, made from polyester, nylon, and spandex. The Coolmax socks may be ideal for hikers who sweat a lot as it is engineered specifically to draw moisture away from the skin. Another benefit of the Coolmax is that it can stay cooler in summer while still keeping you warm in the winter.
I love these socks because they have a high thread count and are designed not to slip or bunch. They feel great and every sock you purchase from Darn Tough is guaranteed for life! If you need any more convincing just check out the review section on darntough.com! Every sock is a five-star sock!
Find something awesome on Darntough.com
Smart Wool is right up there with Darn Tough. They are almost always said practically in the same breath when experienced hikers give recommendations to newbies.
One of the best things about The Smart Wool Website is that it has a sock finder that will allow you to put in all your preferences and let it locate the perfect socks for you. The sock finder walks you through all your options and explains why you might want a certain choice over another.
All Smart Wool socks are made from Merino wool, a premium type of wool that is thinner and softer than the regular kind. It has natural odor reducing qualities, as well as natural wicking ability. It's also fire-resistant and biodegradable!
As far as cushioning and length go, Smart Wool offers all the same options as the Darn Tough socks. Smart Wool also goes a step further and allow you to choose a sock with additional support in key pressure areas. This may be a great pick for someone who likes more padding and comfort than they can get from their boot. Again, the best winter sock for you will depend on your preferences and environmental conditions.
You can also find Smart Wool socks on Amazon and take advantage of free shipping options if you're a prime member.
Find your perfect pair on Smart Wools website
If you're on a budget, Kirkland (the Costco brand name) socks are for you. At Costco, you can get six pairs for less than the price of one pair from Darn Tough or Smart Wool. And, pro-tip, you can purchase items from Costco.com even if you don't have a Costco membership. Just expect to pay a very small non-member surcharge. Or you can just bum your buddy's membership information to save the extra dollar.
Kirkland has trail socks for both men and women. However, this is where the customization options end. They have one option, take it or leave it. However, they are made with a merino wool blend with a full cushion and added heel and toe support. The Kirkland socks are made in China, unlike Darn Tough and Smart Wool which are made in the USA and come with no guarantee.
However, they are great socks! And for the price, it's almost silly not to try them out. It's no question that a lot of hikers love them!
I wouldn't necessarily recommend waterproof socks unless you are in dire need of them. Most often a well-waterproofed boot, maybe some gaiters, will do the trick to keep your feet dry enough. However, if you want the extra protection Sealskinz is the way to go.
You need to be careful with waterproof socks as cheaper brands will likely do more harm than good. They will keep the moisture out, yes, but they will often trap your sweat in. This is can be murder on your feet. Sealskinz socks are somehow breathable and waterproof.
If you're a swamp-hiker, your feet don't sweat too much, and you're willing to pay top dollar for a sock then Sealskinz could be what you're looking for. It has a waterproof membrane and is lined with merino wool to keep your feet warm and comfy on your wet winter hiking trip.
You can often find great discounts on either Amazon or Backcountry where you will usually pay several dollars less than if you purchase directly from the Sealskinz website.
Check Backcountry price    Check Amazon price
Hope these brands will knock your socks off!
Figuratively of course. Let's literally hope that they will stay on and keep you warm, dry and loving your winter adventures!
If you have any questions feel free to leave a comment below or contact me directly and I will do my best to help you out.
And lastly, if you have tried any of these brands, or if there is a brand not on the list that you would like to sing praises to, please let us know below!
P.S. If you need some motivation to get out there this winter read this article