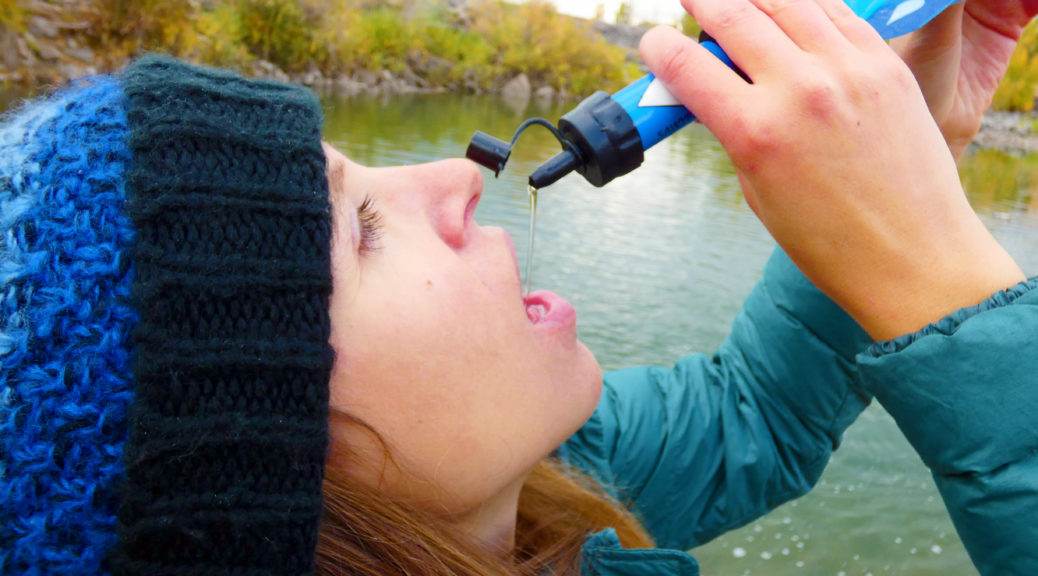 Sawyer Water Filter Review – #waterbottlecuddles
Sawyer Water Filter Review – #waterbottlecuddles
Sawyer Water Filter Review – Quick Summary
Description: Lightweight membrane filters to purify water for clean drinking
Where to buy: I purchased mine from Amazon.com, but you can also find them at a variety of online and in-store retailers
Pros: Lightweight, easy-to-use, versatile, long-lasting, guaranteed protection against bacteria and protozoa with 0.1-micron filtration, plus viruses with 0.02-micron filtration
Cons: Slight plastic taste, the filter becomes damaged when frozen
Warranty: Lifetime Warranty against any manufacturing defects
---

There is a vast range of water filtration and purification products on the market. Check out this post for an overview of all the different types. But one of my absolute favorite methods to purify water is to use Sawyer products.
I mentioned Sawyer in my previous water filtration post and had some reader questions about Sawyer price and effectiveness in comparison to other brands. So I decided to bring my readers a comprehensive Sawyer water filter review to answer them.
Sawyer offers a diverse range of filtration products including squeeze-filtration, gravity-filtration, adapters for hydration packs and personal water filtration bottles. I have used both the personal water filtration bottle and the mini squeeze filtration system, so this review will focus specifically on those two products. However, it can serve as a general review of all other Sawyer products as well.
First things first
Sawyer water filters are unbeatable when it comes to bang for the buck! You can find them at physical stores and many online retailers. I purchased both my Sawyer filters on Amazon.com where you can usually find excellent prices.
You may find cheaper filters out there, but you won't find the ridiculous longevity of the Sawyer filter. Sawyer products can last a LONG time. The Mini filtration system is rated to filter up to 100,000 gallons of water. And the personal bottle can be used indefinitely when taken care of correctly. This is all backed up by Sawyer's lifetime warranty!
Let's put that into perspective. Let's say you drink 2 quarts of water a day. That's half a gallon, and it's the amount of water I carry for a typical day hike, although I rarely finish it all off. That would mean your Sawyer mini filtration system will last continuous use for 200,000 days, that's almost 500 years! So you've got a huge cushion that allows you to filter to your heart's content.
Lifestraw, a well-known brand that makes filtration products comparable to Sawyer, certifies it's products up to 1000 gallons. That's a huge difference. Even if Sawyer is overestimating longevity by 50% it still beats Lifestraw by 49,000 gallons of filtration.
You can find independent lab results corroborating sawyers label claims and warranties here.

Second things second
Sawyer guarantees absolute pore size. What does this mean? It means that you can be sure the filter is going to catch everything it says it will.
Sawyer filters, along with all other mechanical filters of this type use a membrane that has very small holes. The membrane is meant to let water through but stop almost everything else. Pore size is the size of all those tiny little holes or pores.
Many filters list average pore size. This means that yes, some pores will catch everything, but some will be big enough to let something nasty slide right through and make you sick! Not a good deal. I don't know about you but I don't want to wager average pore size against hours in the bathroom trying to purge some little bug out of my system.
Sawyer has filters with 0.1-micron pore size. If you don't know what a micron is, that's 0.001 millimeters. Also, the average human hair is 50 microns in diameter and us humans are not even capable of seeing anything smaller than 40 microns. This filters out all bacteria and protozoa such as Giardia, Cryptosporidium, Cholera, and Typhoid.
If we reference lifestraw again for comparison, their filters have a 0.2-micron pore size, so they could potentially let something in that the Sawyer filter would stop.
Sawyer also has filters with 0.02-micron pores. That's so small that I'm not even going to try to explain it to you because I can't even wrap my brain around it. This filters out all the same little nasties as the 0.1-micron size as well as viruses.
In case you're wondering, you usually do not need to worry about filtering viruses in your home country because your body is already adapted to them. However, if you really want to be on the safe side, or are planning on using your filter to drink tap water in Cambodia or someplace else you're not used to, you probably want to go with the 0.02-micron pore size.
Okay enough with the numbers
All this information is available if you search through product descriptions and FAQ's, and what you really want to know about is my personal experience with the filters.
So let's talk about some important aspects of filtration namely: ease of use, drinkability, versatility, taste, and effectiveness.
Ease of Use
This is where the personal filtration bottle shines! It requires some quick pre-setup at home, where you hook up a couple of tubes to attach the filter to the bottle cap, and then you're good to go.
Filtering in the field requires almost no effort. Simply unscrew the cap, fill the bottle from a stream, lake, river, whatever, screw the cap back on and drink through the straw. The water will literally filter as you sip it!
The Mini Squeeze filtration system (and likely the full-size squeeze filter as well) is a little bit harder to use. The squeeze pouch is a little difficult to fill with water because it doesn't open up very easily. It's also somewhat tricky to keep track of the squeeze pouch cap, the pouch, the Mini-filter itself and the straw if you're using it, and make sure that you don't contaminate the drinking end with water from the hand you just used to fill the squeeze pouch with.
Here are my solutions. Keep the straw in a separate plastic bag, and keep the drinking end of the mini-filter capped. Don't touch them until you've cleaned your hands of all contaminated water!
In the video above I uncapped the drinking end with my teeth to avoid touching it with my hands.
And to solve the fill problem, lose the squeeze pouch entirely and just use a standard, disposable, plastic water bottle instead, or anything else with the same cap thread size. Fill the bottle with water, screw the filter on top in place of the cap, and squeeze the water out into another bottle. Or attach the straw and drink it straight from the pouch just like the bottle filter.
It's really that simple!
Drinkability
By drinkability I mean: I've already set up the filter and got some water into it, now I want to know how quickly I can get some delicious, purified water into my trail-dusted throat.
This is one of the few downsides to the Sawyer filters I've used. If you are drinking from the personal bottle or using the straw on the squeeze filter, you have to suck a little harder than you would if you were using any old straw. This is because the water has to strain through all the tiny, little holes.
But if you factor in all the time saved by the ease of use, this delay is pretty negligible. And you get the added bonus of working out your inner cheek muscles.
But seriously, it's really not that hard. So just suck it up. (Two Foot Traveller cannot be held responsible for any damage caused by bad puns.)
Versatility
Alright, guys, this is where it gets good. You can drink straight from the water bottle, you can squeeze water from the pouch or bottle into other containers. But you can also remove the filter from the bottle and attach it in-line into any hydration pack tubing. And you can even use the whole filter/bottle cap combo on any standard 63mm wide mouth water bottle.
You can do all that with just the mini filter and personal bottle. It's not even to mention all the other options Sawyer offers, like a bucket adapter, a gallon-gravity filtration system, and even a microfiltration system what weighs only 2 oz. for an ultralight option.
I'm going to risk sounding cliche and say that Sawyer products are literally your one-stop-shop for all your filtration needs.
Taste
This is somewhat dependent on the source of your water. A muddy puddle may not taste as good as a clear babbling stream regardless of filtration. However, every source of water I have used to fill my Sawyer has had an acceptable taste and some have been quite delicious. Although, admittedly I tend to avoid muddy puddles.
The major taste downside is that, if you are using the straw, you are drinking through a plastic tube. I don't know about you, but plastic tubes are not my favorite drinking medium. Plastic, in general, is not my ideal, even if (like the Sawyer bottle) it is BPA free.
Here's my quick fix. Bring along your steel insulated bottle, like a hydro flask, full of ice and squeeze your filtered water into it. That'll make it taste better than drinking directly out of a plastic tube.
And hey, maybe plastic bottles don't bother you at all. If so, you can disregard the last three paragraphs.

While we're talking about downsides…
I may as well let you know that if your sawyer filter freeze's after you have used it, it's basically out of commission (and void's the warranty.) A frozen membrane can be compromised and there's pretty much no way to tell. Sadly this happened to me with my first sawyer bottle. Testing to see if it's compromised or not is more expensive than just purchasing a new bottle.
This is a problem you will face with any membrane filter, not just Sawyer products. There are other types of mechanical filters but they are almost always quite a bit more expensive and require pumping or other long processes.
Just don't leave your sawyer overnight in your car (that's what I did… oops.) And if you're backpacking and expect the temps to drop below freezing at night, just stick Sawyer in the bottom of your sleeping bag to keep him nice and toasty. #waterbottlecuddles
Effectiveness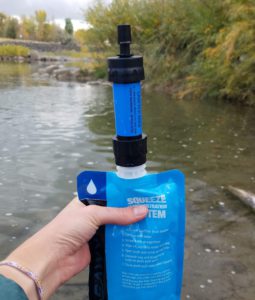 If all that info about microns and pores and viruses wasn't enough for you, here is my personal testimonial.
The Sawyer works! I have used it to drink from numerous backcountry sources, including lakes, rivers, springs, etc. and have never once gotten sick from doing so.
The clincher
"Well," you may ask, "what if I'm not just looking for a long-lasting, extra reliable, simple-to-use, versatile water bottle. I also want a product from a socially responsible company that's aim is to provide inexpensive, clean water solutions to countries in need around the world!"
Then look no further!
I'm sorry the cliche was a bit much, even for me, that time.
But seriously, Sawyer is dedicated to eliminating two of the leading causes of death in the world: bad water and mosquito bites. Sawyer has partnered with the World Health Organization to conduct studies that led to the widespread use of repellent on mosquito netting, saving millions of lives.
And the Sawyer International campaign allows individuals, church groups, businesses, etc. partner with Sawyer and easily help bring clean water to people in need throughout the world. Check it out here.
Any questions?
Seriously though, the Sawyer bottle speaks for itself. I am not overselling, I am not exaggerating. I could not recommend a Sawyer product more.
Go ahead and order one to see for yourself. I am fully prepared to promise that you won't regret it!
If you already own a sawyer bottle please leave your own opinion or review below! And as always I would love to answer any questions you may have.
Happy travelling!