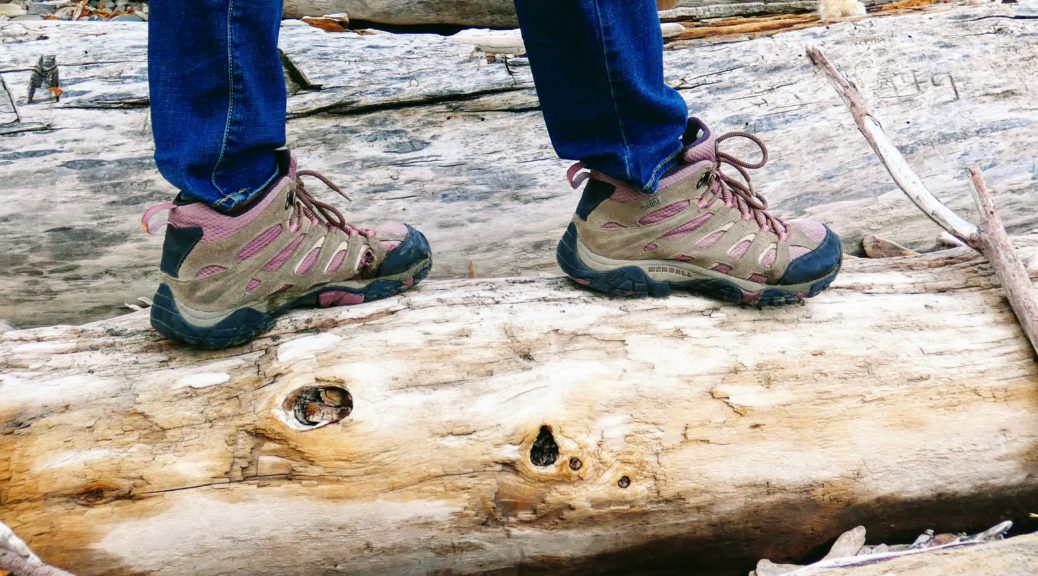 Merrell Hiking Boots Review – a Tough, yet Comfortable Boot You Can Rely on for Years
Merrell Hiking Boots Review – a Tough, yet Comfortable Boot You Can Rely on for Years
Merrell Hiking Boots Review – Quick Summary
Description: Waterproof mid-height hiking boots with suede leather/ mesh uppers and rubber soles
Overall Rating: 4.5 out of 5
Pros: Durable, Stylish, Excellent Ankle Support
Cons: Waterproofness doesn't hold up under extreme weather or long-term water exposure
Where to buy:
---
If I asked you, "What is the most important piece of backpacking equipment?" What would you pick? Would you say the backpack or a tent? Maybe a sleeping pad or portable stove? Those are all very important things. And it's tough to choose the most important one. Personally though, if I had to pick one thing, I would very likely say my hiking boots.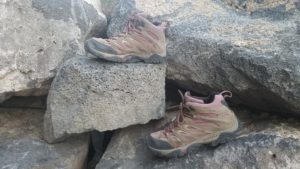 As someone who works in the outdoors, I rely on the boots that I wear every single day to keep me safe as I hike both on and off the trail. For the past 3 field seasons, I have been using Merrell women's hiking boots. I have put a lot of miles into and thoroughly tested these boots in all terrains and weather. I would like to share this Merrell hiking boots review with you to help you decide if they might be right for you as well.
The specific boots that I currently use are the Merrell Women's Moab 2 Waterproof hiking boots, which are just over $100. But much of my review can probably be extrapolated across the whole line of Merrell boots, of which they offer many, to some extent.
Rating Criteria
I'm not going to spend a lot of time talking about the specific features of the boot as quoted on the Merrell website such as, "shock absorbent air cushion in the heel," and "blended EVA contoured footbed with added zonal arch and heel support." You can read even more fancy words on the product description. Instead, I want to focus on the nitty gritty of what's really important. When you're on your third day of backpacking you don't care if your boot has performance suede leather. You care if it's giving you blisters or not.
Over the course of the past several years, I have identified the qualities that I believe to be the most important when selecting a hiking boot. These qualities in order of importance are: comfort, support, durability, weather resistance and, to a lesser extent, appearance.
If you are looking for hiking boots in a store, you can somewhat identify the strength of the boot in a few of these qualities. However, it is impossible to tell how durable the boots will be over time, or how weather resistant. You also will not be able to tell how supportive or comfortable the boots will be once you actually begin to put them through their paces, out on the trail.
If you are shopping online instead of in store, which is highly likely, you won't be able to test any of the qualities and will have to rely on the manufacturer's or seller's descriptions. This could lead to the hassle of returns or possibly spending money on a boot that quickly becomes useless to you. That is why I want to provide you with a comprehensive review that you can trust, from someone who has used these boots almost daily for the past three summers.
Do you love comfortable shoes?
If you answered yes, (and honestly who would say no?) these boots may be for you. My Merrell boots rate excellently on the comfort scale. I ordered a size 10 and they fit true to size. They are neither too small that they cramp my toes or too large that they allow my foot to slide around in the boot. This is important because I am able to rely on them while hiking steep terrain and I don't have to worry about my toes jamming painfully into the front of the boot with each step (something that I have experienced with other boots and I can tell you it is not pleasant.)
Excessive sliding also increases the chance of blisters. And I am happy to report that I can't recall a single instance of having a blister on my foot since I bought my Merrell's.
The true fit has also allowed me to wear different types of socks based on my needs without sacrificing comfort. I can wear thicker socks in colder weather or when I am hiking off trail and will encounter many more sharp grass seeds and brush. I can also wear ankle socks when I am trail hiking. The boots fit well for me in either condition.
I began to wear them straight out of the box while working at a national park where I frequently hiked around 10 miles a day. They did not seem to require much of a break in period. I was able to wear them regularly right from the start.
The insoles are removable, so I was able to replace them with some custom insoles that I wear for added foot protection. I still have the insoles that came with the boots and I am able to switch them out when I need to.
The mesh lining is breathable and allows moisture to escape as you are hiking. And the air-cushioned sole absorbs shock and softens the blow to your joints and bones as you tread repeatedly along the trail.
I rate the overall comfort a 5 out of 5, because they fit well, help me avoid blisters, and allow me to mix and match socks and insoles for my specific needs without sacrificing comfort.
Support when it counts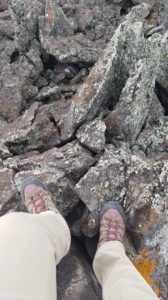 I measured support based on how well the boots protect me from injuries and missteps in the field. Merrell offers both a mid and low height of many of its boots. The top of the mid boot comes up above the ankle joint, where the low hiking boot is more like a traditional shoe. I often need to hike on very uneven terrain so I prefer the mid-height because of the added ankle support. I have sprained my ankle on more than one occasion throughout my life, which can weaken the ankle, so I am often worried that it could happen again in the backcountry.
The closest I have come to this disaster was when I was coming off a steep hill and had to run to keep my balance. My ankle twisted painfully during a misstep but luckily my boots provided enough support that it only pained me for a short time instead of the days it potentially could have.
The boots can be laced around an extra bracket at the top of the boot, which helps firmly secure the boot to the foot and lower leg. It helps me feel sturdy and balanced as I hike on all types of surfaces.
I rate the Merrell boots support to be a 4 out of 5, because though they are excellent there are boots out there that lace up even higher which provides even more stability. 
However, the mid-size is an excellent trade-off because it still provides a lot of stability and is more comfortable to wear than many hightop boots.
Durability
This is a category that you can't find in many online reviews because most people review the item quickly after receiving it and testing it out. Well, I am here to tell you that I have literally hiked thousands of miles in these boots through rain, mud, and sometimes even snow. So I believe that I now have an excellent idea of durability.
Both the fabric of the boots and the rubber has held up extremely well considering the amount of abuse I have put them through. This summer was the first time I have ripped the fabric. This is after three years of owning the boots. There is now about centimeter long rip in the fabric.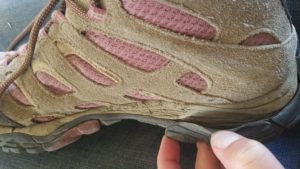 The rubber portions have also held up reasonably well. The rubber sole has begun to come away from the side of the shoe in one place. This is a minor annoyance because it collects grass seeds that can hide away in the crevice created. But it doesn't compromise the support or comfort. I'm sure that it could easily be fixed with some super glue, I just haven't gotten around to it yet because it hasn't caused enough of a problem for me to remember to do it.
The bottoms of the sole are still in great condition. They provide excellent grip on steep trails. I still use them to hike up and down steep sandstone slickrock without fear of slipping and falling.
I give the Merrell boots a 5 out of 5 for durability, because of the sheer amount of time and miles they have lasted me. Judging by the way things have gone up to this point I look forward to continued use for many more miles.
Weather Resistance
These boots are marketed as waterproof, and they are to a certain extent. This is the one area where I have found these boots to be slightly more lacking than some others I have tried. I have gotten my Merrell's soaked through after walking several hundred feet through a dewy sagebrush range. They have also soaked through when I have worn them during extended periods in the rain.
However, they have successfully kept water out while trail-hiking through short water crossings, as long as the water does not go over the top of the boot. So if you are looking for boots to keep your feet dry in a similar scenario I would say they are adequately waterproof to your needs.
On another note, if the boots do get thoroughly soaked, they dry fairly quickly. I have even had them dry on my feet after a morning soak and have found my socks to be completely dry at the end of the day.
If you're worried about waterproofing there are waterproofing sprays that you can buy to increase the weather resistance of the boot. These work great because you can reapply them whenever you feel the need to boost the boots waterproofing over time.
I rate the weather resistance of these boots a 3 out of 5 because they have sometimes soaked through while walking through a damp field or in the rain. But they do hold up well during river and stream crossings.
Appearance
The Merrell Moab 2 hiking boots come in several stylish colors. And you can find an even greater variety if you browse the other boot styles. They are primarily made of suede leather and mesh which is both attractive and suitable to the fashion savvy backpacker.
I myself am not extremely worried about looks. But I do appreciate the ability of the Merrell Moab 2 to continue looking nice and clean up well, after miles and miles of use. I once got trapped in a canyon and had to trek through several knee deep pits of smelly canyon mud and ice to get out. After this, I was worried that my boots would be dirty and smelly forever. Thankfully they cleaned up after several rounds of strong power-washing in the shower.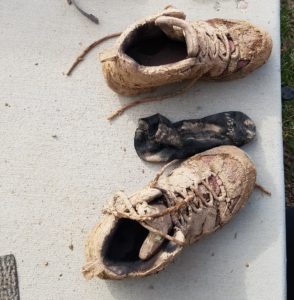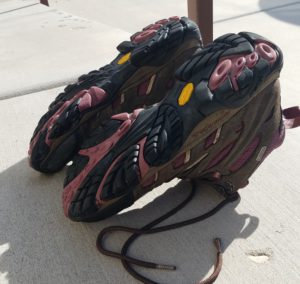 Likely you will never have to get your boots this disgusting, but rest assured that if you do, the boots will not be forever ruined.
I rate the Merrell boots 5 out of 5 on appearance because they are both stylish and clean up quite easily to look like new even after many vigorous hiking sessions.
Do I recommend these boots?
The short answer is a resounding yes. If you are looking for a stylish, comfortable, supportive boot made by a trusted brand that will last you quite a long time. The Merrell Moab 2 Mid style boots are an excellent choice. They are versatile and can be used across all terrains from desert canyons to alpine tundra. I have personally worn them in these habitats and everything in between.
I have used these boots for three years and they continue to score quite high in all of the most important ways. I look forward to more years of use with my current pair of Merrell's and would not hesitate to purchase them again or branch out and try a different model from Merrell.
I hope that you will give them a try and let me know how they work for you and your two feet!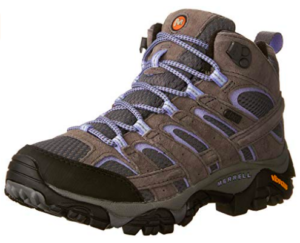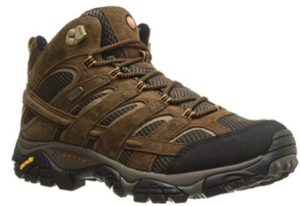 I would love it if you would tell me about your favorite hiking boots and where they have taken you, or If you have tried Merrell boots already, in the comments below.
And as always if you have any questions or need a hand please feel free to comment as well.
Happy Hiking!
Ready to check out some more backpacking gear?
Take a look at these related posts: Sawyer Water Filter Review, Best Quilts for Backpacking