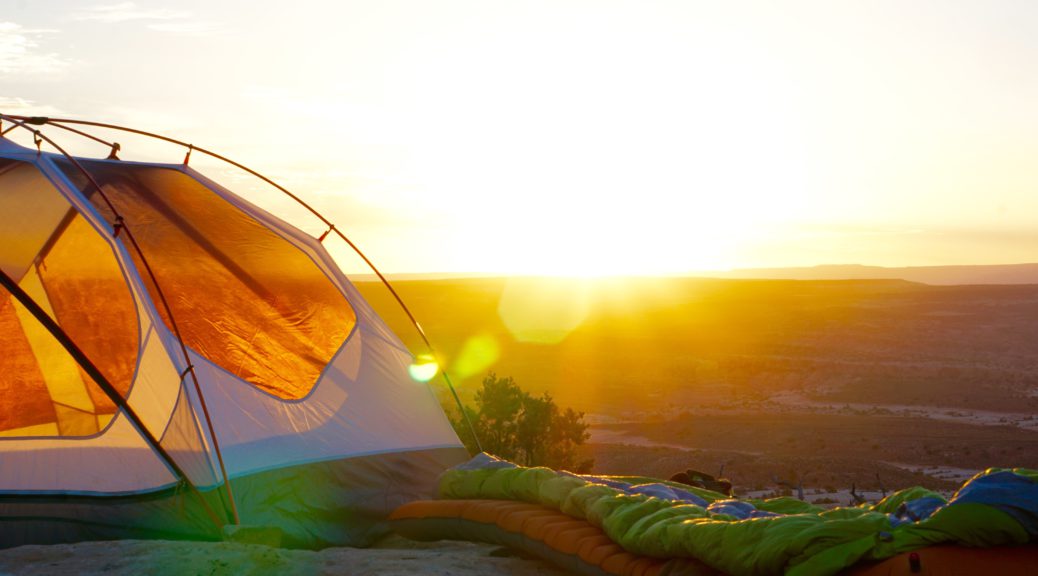 The 6 Best Sleeping Bags for Backpacking – Expert Endorsements
The 6 Best Sleeping Bags for Backpacking – Expert Endorsements
In a companion post to this one, we took a look at the most frequently recommended sleeping bags by real, everyday backpackers. Now let's take a look at the best sleeping bags for backpacking that have been tried, tested and recommended by experts.
Before we jump into it, I want to make it clear that these are not your only options for sleeping bags. Backpacking can be done with much cheaper, albeit heavier and bulkier sleeping bags. This article is focused on the best lightweight sleeping bags for backpacking available, and they are pretty expensive.
But if you are looking for a premium bag that will last a long time, that you can treat as an investment, I don't think you'll be disappointed.
Expert Endorsements
You can spend hours upon hours reading through a multitude of lists and articles like I did. There are a lot of them! And it can easily become overwhelming as you try to compare and contrast between them. Or you can hit the highlights.
I consolidated all the latest sleeping bag articles I could find, to bring you a more refined set of recommendations. These six sleeping bags were tested, reviewed and top-rated most frequently by experts like Outdoor Gear Lab, Switchback Travel, and Backcountry across all of the lists, articles, and reviews I read in my weeks of research.
In this article, you will find quick facts for each bag,  followed by a detailed description as well as a comparison table near the end of the article. I have also provided current pricing resources from multiple retailers where available, although some of these sleeping bags are available exclusively through the manufacturer's site.
The Enlightened Equipment Revelation also made this list, but, since we already checked it out in part 1, we'll skip repeating ourselves here.
Temperature Rating: 20º F
Weight: 1lb 12.7oz regular | 1lb 15 oz long
Pros: Premium design and materials for cheaper than Western Mountaineering, lasts a long time
Cons: Expensive
Warranty: All Feathered Friends products are guaranteed to the original owner with proof of purchase for the lifetime of the product against defects in workmanship or materials. Does not cover normal wear and tear, improper care, accident, or misuse.
---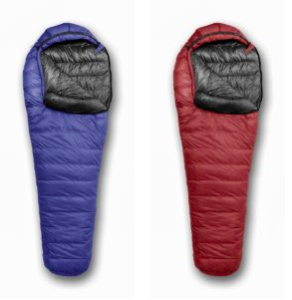 The Feathered Friends Swallow 20, or it's slightly wider counterpart the Swift, earned the top spot in at least 3 separate "best sleeping bags of 2018" expert articles. This bag is expensive but it is unmatched in quality and, if taken care of, will last a long, long time.
Feathered Friends sleeping bags are the premium of premiums. And the Swallow 20 is no exception. Stuffed with 900+ fill power down, and constructed with a unique, 20D, shell fabric that utilizes Y-shaped filaments, it ensures down-proofing, water resistance, breathability, loft, and warmth even after years of use and many washings.
A passive neck collar, cinchable hood, and a generous draft tube combine to keep you comfortable and warm as can be.
Feathered Friends temperature ratings are conservative so depending on sleep style, you may even be able to sleep comfortably below 20º F temperatures.
It seems almost magical that Feathered Friends is able to do all this for about $60 cheaper than the Western Mountaineering Ultralite, and pushes it firmly into the top spot in my book.
Feathered Friends also makes an ultralight version for about $70 more, that weighs in at just over a pound!
Temperature Rating: 20º F
Weight: 1lb 12oz short | 1lb 13oz regular | 1lb 15oz long
Pros: Lasts a long time, true to temp rating, loftier for increased comfort and warmth
Cons: Expensive, non-hydrophobic down
Warranty: Guaranteed against manufacturing defects for an unlimited time. However note that this does not cover normal wear and tear, misuse, or improper laundering.
---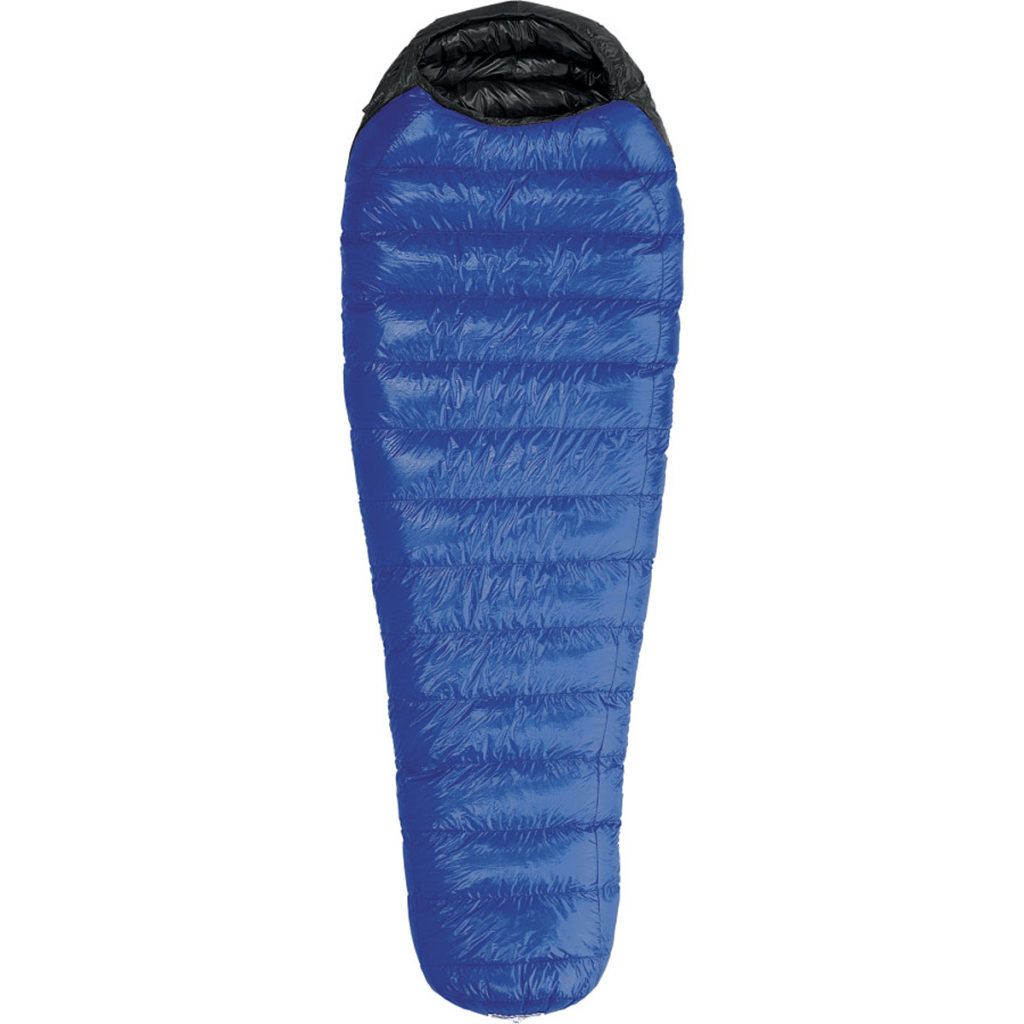 Western Mountaineering offers over 30 different sleeping bag models, and the UltraLite is the most popular of the bunch. It is tried and true as it has been around for a long time.
It was designed with backpackers who adventure in places with variable climates and frigid nights, in mind. With a full collar and a slightly narrower shoulder girth that help to seal in the heat, this sleeping bag is highly efficient. And the breathable fabric allows for comfort even when the nights get warmer.
You should be able to take this bag right down to the 20º mark and be confident in your comfort. However, remember that everyone sleeps differently so if you're a cold sleeper, adjust your expectations accordingly.
The Ultralite is made with quality in mind. Made in the USA with ethically sourced goose down, It is one of the loftiest bags out there and yet it packs down to the size of a large water bottle. The extreme loft helps you stay both warmer, and comfier!
All that, combined with a super soft taffeta, inner lining makes this bag arguably the most comfortable 20º bag you could ever hope to find.
However, keep in mind that at this point they do not use a water-repellent finish on their down, as they are in the testing phase to find out how it will affect the longevity of the product.
If you're ready to spend this kind of money on a sleeping bag, you can't go wrong with the Western Mountaineering Ultralite. I have found the UltraLite offered at these online retailers. Check multiple retailers to find the best price as some may have sales that can significantly bring down your cost.
Temperature Rating: Lower limit – 10º F | Comfort – 22º F
Weight: 1lb 14oz regular | 2lb long
Pros: Great value for a premium down bag, water-resistant down, anti-snag zipper
Cons: Mixed reports about the reliability of the temperature rating
Warranty: Limited warranty covers manufacturing defects in materials and workmanship. 100% satisfaction guarantee allows for returns or replacements within 1 year of purchase
---
REI Co-op Magma is a premium down sleeping bag for an excellent price. For $150.00 cheaper than the Western Mountaineering UltraLite, it can't be beaten. It's a little roomier than the UltraLite as well but still manages to pull off great heat efficiency.
This bag is ready for cold nights! With variable baffles that keep the down where you need it, a contoured hood, neck collar, draft tubes, and two drawstrings that let you make adjustments from the inside, the Magma is equipped to take you right down to freezing temperatures.
Many experts reported that the Magma keeps you warm even in sub-freezing temperatures however others reported that the bag is not as warm as it could be for the fill weight and bulk. Which just goes to show that it all comes down to personal specifications.
Cold sleepers may find the comfort temp rating to be somewhat generous. And with all the protection from heat loss offered by the Magma, warm sleepers who primarily backpack in summer might consider it overkill so keep that in mind.
If you are a warm-sleeping, summer backpacker, a quilt might be the way to go. But you can certainly open the Magma zipper part or even all the way if conditions call for it.
And remember that you can always adjust additional insulation such as your clothing layers and sleeping pad.
Backpackers who choose the Magma have found great satisfaction in the lightness, loftiness, and comfort found in this sleeping bag. The quality is undeniable. The zipper has an anti-snag zip for easy zipping both inside and outside the bag, and the lining is soft and comfortable for an excellent nights sleep.
The Magma also has a sister sleeping bag specifically for women.
Temperature Rating: 15º F
Weight: 2lbs 11oz regular | 2lbs 14oz long
Pros: Spoon-shaped design is great for side sleepers, water-resistant, zippered stash pockets, leg room, thermo gills for venting, durable shell material
Cons: Larger and heavier than many other bags, the zipper does not extend to the very bottom of the bag
Warranty: Lifetime warranty against manufacturing defects to the original owner with proof of purchase from an authorized NEMO dealer. This does not cover wear and tear, improper use or maintenance, misuse or neglect.
---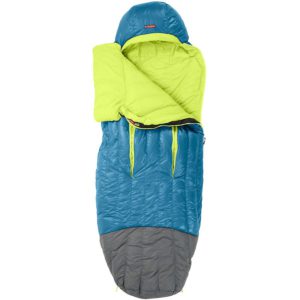 The Nemo Disco 15 is a uniquely designed bag built with side-sleepers and others who need some wiggle room, in mind. Sure mummy bags are great for sealing in the warmth, but if you're so constricted that you can't sleep anyway then you've got a problem. At least you'll be toasty warm while you twist and turn, trying to get comfortable, while your sleeping bag wraps around you like a snake.
Mummy bags serve their purpose and work well for a lot of people, but the Nemo Disco allows people to shift positions throughout the night. I, personally, move around a lot when I sleep. And the ability to roll over from my left to my right side while still contained in the warmth of my sleeping bag is a huge plus.
It is especially good for bigger and taller people and comes in both a regular or long size.
To make up for a less heat-efficient design, the Nemo is stuffed with 23oz of 650 fill power down into vertical baffles that help eliminate cold spots. It also has a waterproof footbox and an external draft collar for comfort and warmth. The Disco does very well down to around 30º. If the temperature drops below that, expect to wear more clothing layers, unless you're a warm sleeper.
The bag incorporates Thermo Gills that allow you to vent body heat on warmer nights. However, the zipper does not extend all the way down to the bottom so it can be difficult to vent heat from your feet if they get too hot.
The women's version of this bag is the Nemo Rave 15. Nemo also makes a 30-degree version that packs down smaller, weighs about 6 oz less and is $20 cheaper.
Because of the spoon shape, the Disco sacrifices a little by way of size and weight. And the included stuff sack does not compress down as much as many would like. But it is a sacrifice many are willing to make for the promise of comfort.
You'll love the cozy blanket fold, the water resistance, and the legroom you'll get in any one of these Nemo bags. I have found great prices at these retailers. Because prices and sales may fluctuate, compare multiple retailers to find the best current price.
Temperature Rating: 22º F
Weight: 1lb 5.9oz small | 1lb 7.5oz regular | 1lb 9.3oz long | 1lb 10.2oz regular wide | 1lb 12oz long wide
Pros: Versatile, lightweight, customizable, secure pad attachments, great customer service
Cons: It can take up to 3 weeks to ship, pad attachments can be cumbersome (but this is true with any quilt), more expensive than some competitors
Warranty: Guaranteed to the original owner against defects in workmanship or materials for an unlimited time. This guarantee does not cover damage due to normal wear and tear or misuse.
---
If you're wondering where all the quilts are, then look no further. In an earlier post, we established that quilts are much preferred by the backpacking masses (of course, this is a matter of personal preference). But they are surprisingly absent from the expert review articles. Even so, the Katabatic Gear Flex 22 managed to make the cut.
And it's certainly no wonder, with the versatility and quality offered by Katabatic with this quilt. If you're looking for a single sleep system that can keep you warm enough when the temps dip below freezing, and cool enough when they're above 50º, then a quilt may be for you. And you won't go wrong with the Flex 22.
The hidden gem of the flex is in its cord clip pad attachment system. It truly embodies the bags name with its flexibility. You can set the clips to slide freely on the cord for less movement restriction in warmer weathers or set the clips to lock in place on colder nights.
This allows you to attach the sleeping bag to the top of your pad, instead of underneath like many other quilt attachment systems. Attaching underneath can create a draft tunnel, leaving you shivering instead of getting the sleep you need. Katabatic's clips eliminate this problem.
The footbox style allows you to cinch it down tight, open it a little for venting, or completely unzip and use the quilt as a blanket. You can even use the katabatic without a sleeping pad because it comes with removable webbing straps!
For warmth, you get a down-filled collar, draft blocking footbox closure, and overstuffed baffles over the foot section. You also have the option of adding overfill into your bag! The Flex 22 is has kept many a backpacker warm into below freezing temperatures.
The one obvious downside is the shipping time. It can take up to three weeks for your quilt to ship! But isn't quality, versatility, and comfort worth the wait? On top of this, the folks at Katabatic have a reputation for excellent customer service. They are more than happy to help you get all your questions answered and assist you with exchanges or anything else you might need.
CHECK CURRENT PRICE: KATABATIC GEAR FLEX 22
Temperature Rating: 46º F
Weight: 12.3oz regular | 13.8 oz long
Pros: Ridiculously lightweight, premium down, water resistant, packs smaller than most down jackets
Cons: Not suitable for cold weather, utilizes flimsier fabric to keep the weight down, 1/3 length zipper, very slim fit
Warranty: Guaranteed against defects in materials or workmanship for the lifetime of the product. Does not cover damage due to improper use or care, accident, or negligence. This warranty also excludes normal wear and tear and material breakdown due to age, use, or environmental conditions.
---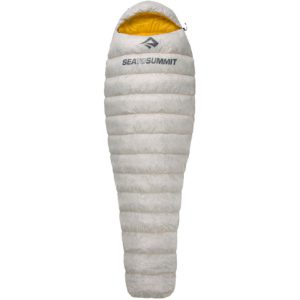 There's a chance you may be thinking, those previous options are all well and good but you're not just any Two Foot Traveller, you're an ultralighter. And you're not just any ultralighter, you're the ultralightest of the ultralighters.
If that's you, don't worry.
The Sea to Summit Spark I is ridiculously ultralight. In fact, the slogan of the Spark series is, "so light and tiny, you might think you left it at home." And that's no joke. The Spark I weighs as much as a couple of tubes of toothpaste and packs down to the size of a grapefruit.
The Spark uses premium 850+ fill power down with Ultradry waterproofing technology. Adventure racers use this bag and are able to sleep in light rain.
The Spark I has a full hood, but no draft collar. And no draft tube either.
But for the weight, sacrifices must be made. One of these sacrifices is in the 1/3 length zipper that may not be for everyone. And of course, this bag is only for summer use, and even in summer, it may not be suitable for higher elevations. However, there are 35º and 25º versions in the spark series as well, which are of course heavier and more expensive.
You can even pair it with another bag as a liner for use in other seasons.
The fit is also slimmer than almost any other bag you might find. It's certainly not for everyone but if you're a low-elevation, summer-backpacker, adventure racer, or pride yourself in your minimalism then it could be for you.


Final Thoughts
Check out this comparison table for some quick side-by-side stats of all 6 sleeping bags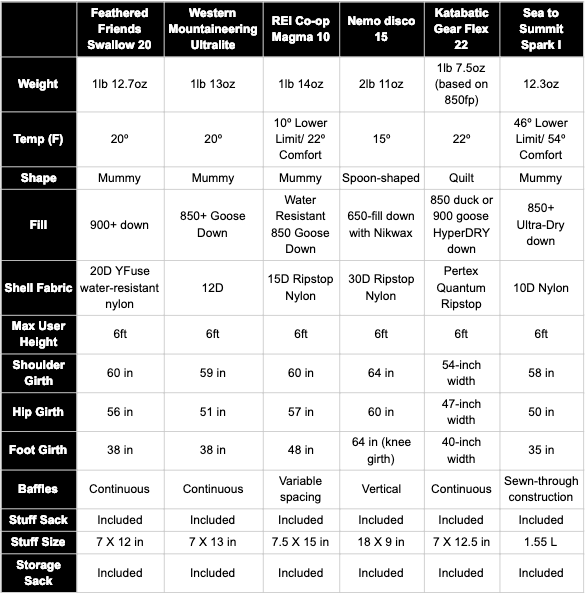 I spent weeks researching and writing this article and I hope that you found it useful in your sleeping bag search. If you have experience with any of these bags or a favorite bag that didn't make the list please feel free to leave your personal review in the comments below.
I wish you the best in all your sleeping bag endeavors.
As always happy Two-Foot-Travelling!