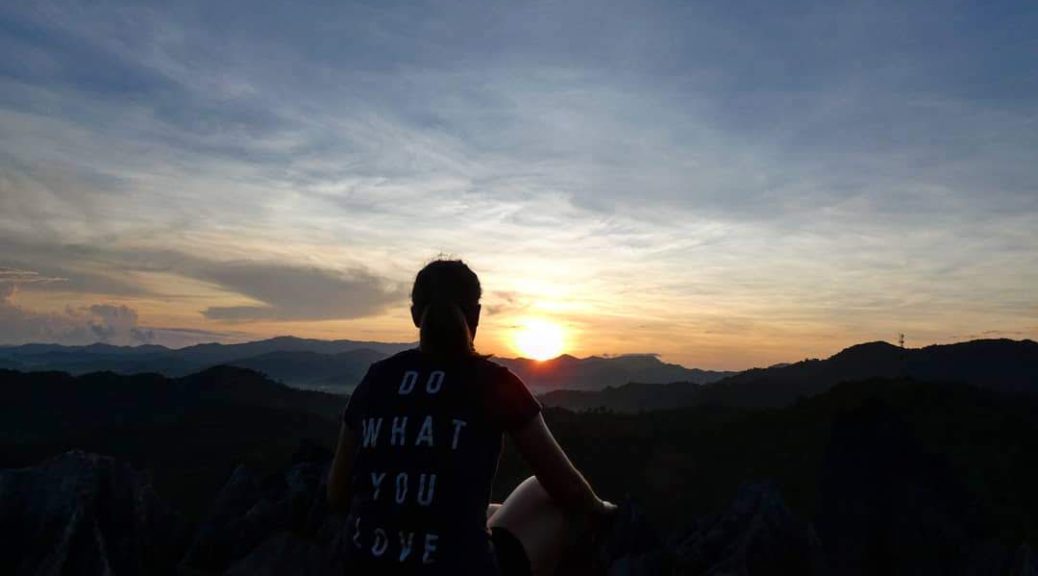 The Unforgettable Mt. Taraw – Hiking in the Philippines
The Unforgettable Mt. Taraw – Hiking in the Philippines
El Nido, Palawan. Home to some of the most stunning karst formations I had witnessed in my lifetime. And I had just paid a modest amount of Philippine Pesos for a guide to take me to the top of the tallest peak, Mt. Taraw. I'm not usually one to need a guide but I was in a strange land and the strange cliffs seemed to provide no earthly way to the top.
Have you ever seen karst? The sharp limestone formations are created as water dissolves the soft rock from above and below creating pinnacles, caves, sinkholes, and underground rivers. In Southeast Asia, karst cliffs erupt suddenly from the earth like, well, like something that can hardly be described. Have a look for yourself!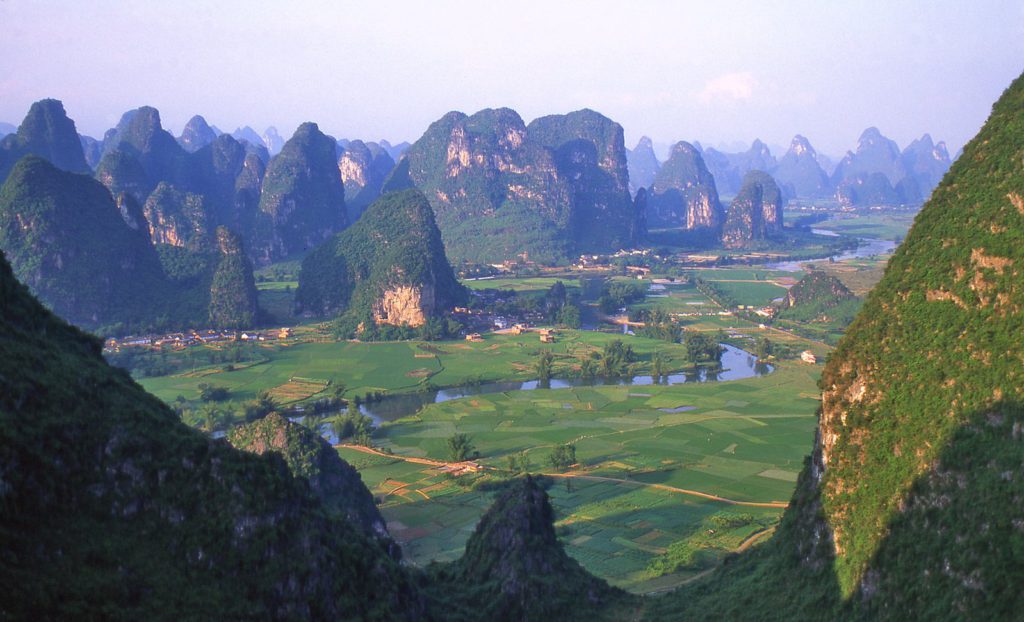 Striking Out on My Own
My travel buddy, due to a sore throat, chose to opt out of what promised to be a very strenuous hike. And so it was that I found myself walking, alone, down a narrow mountain road toward the town center to meet the guide, wearing a headlamp and my backup hiking shoes.
It was 4 in the morning, very dark, and a surprising number of people were already awake. But not enough to make me feel any of the comfort afforded as part of a crowd. As a solo female traveller, I admit that this short, lonely trek was a little nerve-wracking.
I reached the appointed meeting spot and sat down to wait. There's always a bit of gamble with these types of things. You pay cash in advance, sometimes they give you a receipt, more often they don't, and you hope that somebody actually shows up to guide you. Usually, they come late enough that you get plenty of time to worry.
Should I Stay or Should I Go?
This time was no exception. In about 20 minutes a young Filipino man on a moped showed up and told me to get on. After taking a second to weigh the pros and cons of jumping on the back of mopeds of unknown men in foreign countries, I did. (Don't tell my mother.) I figured I could always jump off if things went South.
I'm happy to report that scooter guy basically just drove me around the corner and we met up with another guide and about 6 other people ready to trek to the top.
Gearing Up
The guides passed out helmets with attached headlamps and gloves to protect our hands from the sharp karst. Then we set out through the town toward the mountain.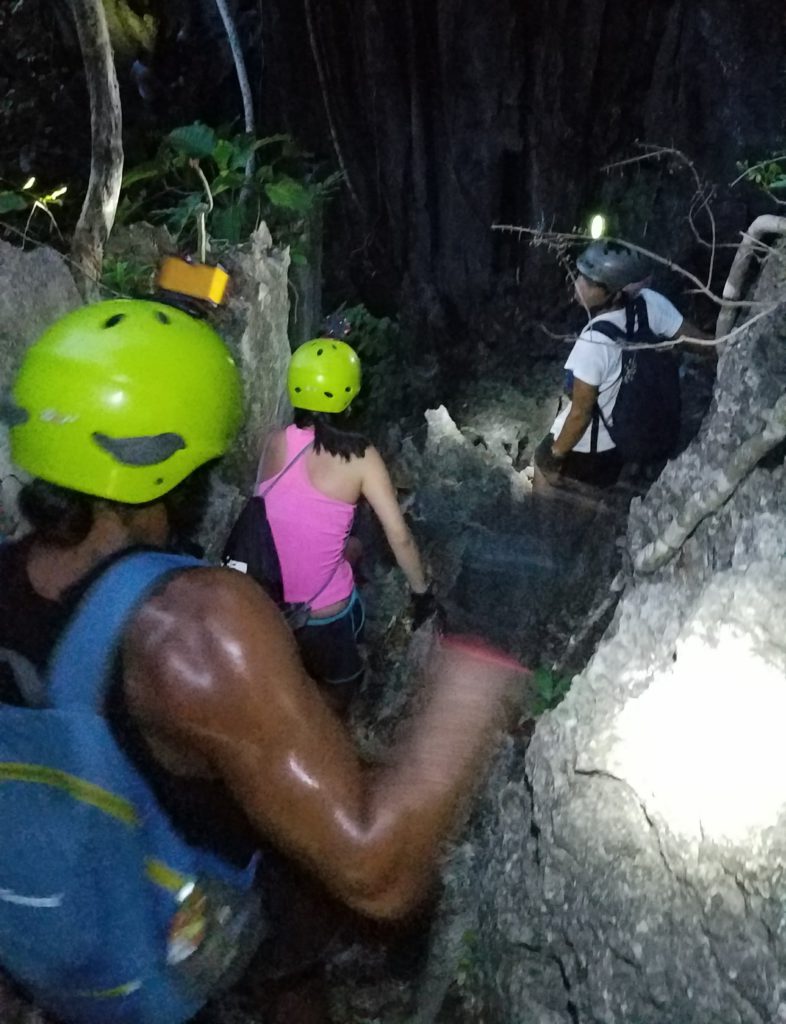 As far as mountains go Taraw isn't the tallest. Not even close. But the eroded karst creates jagged pinnacles, almost like you're hiking on stalagmites. And boy are they sharp! As we reached the start of the mountain, there was no obvious way up. Things would have been very difficult without a guide, especially in the dark.
The Ascent
I was very thankful for the helmet with the attached headlamp and the gloves as the "hike" became more of a climb than anything else. Trying to use a handheld flashlight would have been treacherous as I needed all four of my limbs to traverse the dangerous terrain. There were a few spots that could have even warranted the use of climbing rope if we were a more cautious group.
Our goal was to reach the top before sunrise. Three of us and one guide split off from the main group in order to hike faster and make better time. There was no way we were going to miss that sunrise. Sweat literally poured down my back. I am not exaggerating. The humidity and the heat seamed to take no respite from the absence of the sun. And each inhale felt like I m might have been breathing in more water than air.
Stepping carefully from pinnacle to pinnacle, pulling ourselves from foothold to foothold we ascended the cliff, all the while wondering whether it would be even harder to come down. Chasms seemed to open below us and sheer drops to either side waited for one misstep, one slip. But none came.
The Reward
We reached the top in record time, it took us about 30 minutes, to be rewarded with the sight of the first rays of sunlight peeking up over mountains adjacent to Bacuit Bay. Sunlight burned through the morning fog and the bay opened before us in all its glory, colorful boats bobbing at anchor, the water like a sea of glass stretching effortlessly toward the horizon and merging with the clouds.

The sight would have taken my breath away if it hadn't already been stolen by the arduous trek to the top. Even so, I could see the fatigue of each climber melt away as they arrived at the top, in the face of so stunning a view. All we could do was stare, take photos that, though beautiful, pale in comparison to the real thing, and of course try not to fall off the cliff as there was no flat ground to sit or stand on. Even at the top, the jagged karst pinnacles remained our only surface to stand on.
I'm glad my group was the first to reach the top. As more climbers arrived the precious space to take photos and even to stand became scarce. It wasn't as if there were large amounts of people at the top, it's just there really wasn't anywhere to safely stand. You had to be vigilant at all times to avoid tripping and falling which could be disastrous. And you definitely didn't want anyone to bump into you.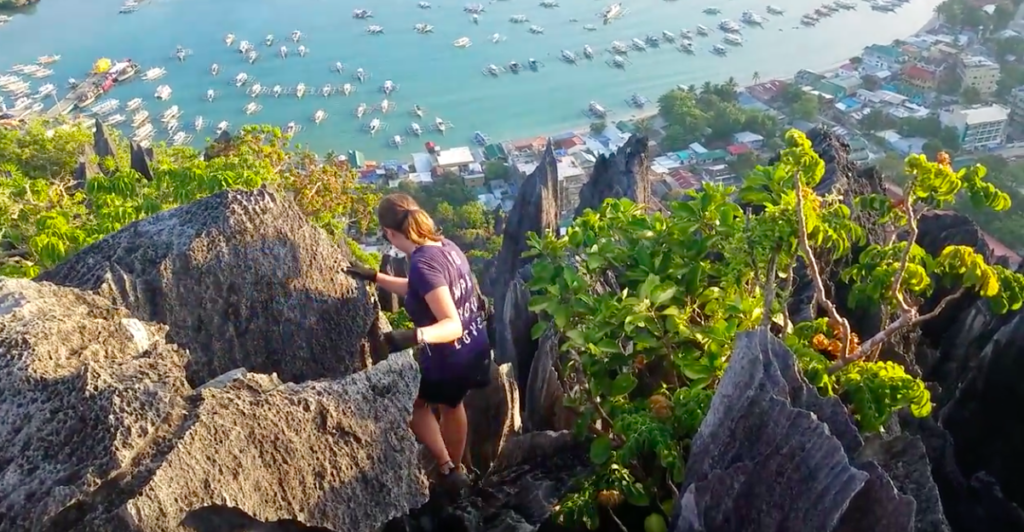 Eventually, we donned our helmets (after detaching the headlamps that were no longer needed) and gloves and began the trek back down. In many ways, it was more difficult than the way up because it required more technical thought, precision, and unwavering ankles to avoid any sprains or strains. We made it down without incident and turned back to stare at the giant we had just traversed. Even after just climbing the mountain Taraw seemed forbidding to would-be foot travellers.
And yet we had come, we had seen and we had conquered.
The Bottom Line
Despite its difficulties and danger Mt. Taraw was one of my favorite parts of my visit to the Philippines. I must admit that I am a bit shocked that commercial companies are willing to take on the risk of injury or death befalling customers by supplying guides. I think that it almost definitely would not happen if it were in the US. Not without hand-ropes at the very least.
I would recommend this hike to those who are in very good physical condition, willing to take a risk and don't have a fear of heights. If that doesn't describe you, then perhaps this is one that you should skip. You must find a guide to take you. It isn't too hard to find one at one of the little tour kiosks that dot the town. Expect to pay around $20 USD for the trip. All the tour agencies collaborate and seem to charge basically the same price.
If you do decide to take on Mt. Taraw, just know that it will be one hike that you never forget.
What is your favorite hike that you have done in a country other than your own? How did the experience compare to your favorite local hike? Swap your stories in the comments below.
Please follow and like us: