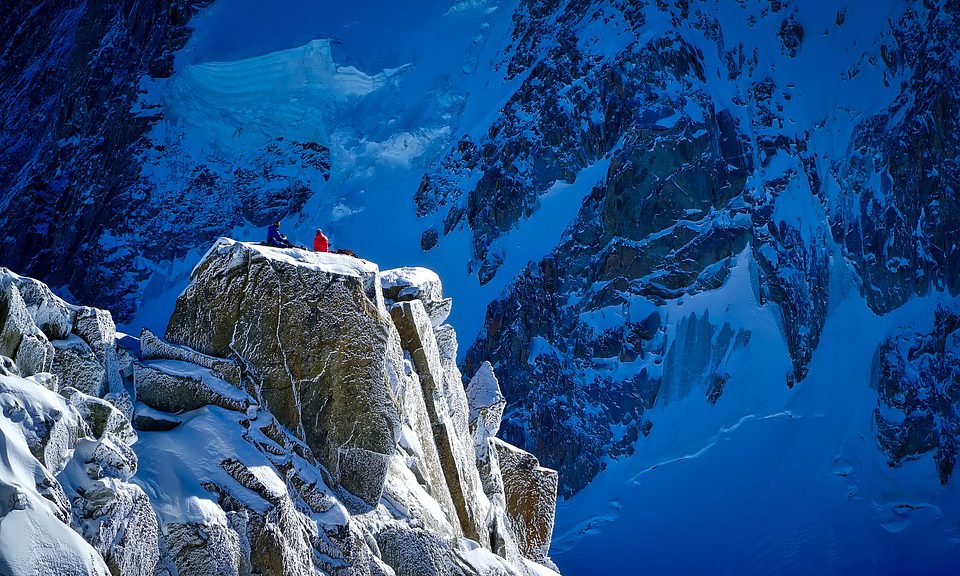 Get a Grip – Best Microspikes for Hiking
Get a Grip – Best Microspikes for Hiking
Don't let ice, talus, scree, or mud stop you! Built to provide traction on slippery surfaces, microspikes can help you get a grip and keep on trekking.
When you think of outdoor winter travel, your mind will possibly jump immediately to cross-country skiing or snowshoeing. But in popular recreation areas or areas with significant frequent temperature changes, you may run into the problem of icy terrain. If you're hoping to successfully traverse these icy trails, you would do well to pack some microspikes.
You can purchase microspikes from a number of different suppliers in a whole range of prices from cheap to not-so-cheap. In this post, we'll compare the best brands to help you find the best microspikes for hiking.
JUMP TO:
What are microspikes?
There's a chance that you've heard of Yaktrax, microspikes (traction cleats), crampons or all three. And you may be wondering what's the difference? And which one is right for me?
All three of these devices are built to provide you with extra traction on slippery surfaces. Yaktrax do so via steel coils whereas microspikes and crampons consist of chains and metal teeth that bite into the ground. Crampons generally have longer, more heavy-duty teeth than microspikes however there is some crossover and not really a hard line between the two.
Yaktrax are geared more towards runners who want to be able to run normally in the winter time. And if you want to begin ascending steeper slopes or traversing glaciers, then you will start getting more into the heavy-duty crampon territory. But if your winter plans are more laid back and you're planning on hiking fairly level, icy or packed trails microspikes are the way to go.
There is some debate about exactly how much slope your microspikes can handle. Some people will say that if there is any slope at all, you will need crampons. Others will tell you that they are comfortable with just microspikes up to moderate slopes.
I suggest being mindful of your personal skill level, and risk threshold. Don't overestimate yourself and remember, if your trail starts to get steep and you feel like your traction is lacking, you can always turn around.
Which traction device is the best for you?
We'll leave the heavy-duty crampons for another day. Right now we're going to look at some of the best microspikes (and similar products) for winter hiking.
As you consider which ones you want to purchase, keep in mind the aspects that are most important to you. This may include price range, durability, ease of use, weight, etc.
Ready? Let's dive right in!
Spike Length: 3/8 in. (0.95 cm)
Materials: Elastomer/ Stainless Steel
Weight: 11oz (based on size medium)

Kahtoola is undoubtedly the leading brand when it comes to traction cleats. In actuality, the word MICROspikes is the specific brand made by Kahtoola. MICROspikes are to traction cleats as Kleenex is to tissues or ChapStick is to lip balm. Many people use the word microspikes to encompass all similar products made by other brands as well.
So if you're looking for something tried and true, Kahtoola is an obvious choice. Kahtoola's microspikes feature twelve 3/8 inch (0.95 cm) stainless steel spikes on each foot. The spikes are connected by flex chains which in turn, are attached to the elastomer harness that wraps around your shoe. The flexible harness allows you to easily secure the spikes to your shoes.
The Kahtoola MICROspikes can accommodate all types of footwear including tennis shoes, hiking boots, and insulated boots. You can even use one pair on multiple sets of shoes. And they last for years! Wear yours on snow, ice, mud, scree, or talus and feel the AWD kick in on your feet.
Kahtoola offers a 2-year warranty on this product.
Spike Length: 1.5 cm (0.59 in)
Materials: Carbon steel spikes, stainless steel chains, elastomer harness
Weight: 15.7 oz (based on size medium
Best bargain: We found no significant price difference between vendors however you can score some reward dollars if you purchase on REI or Moosejaw.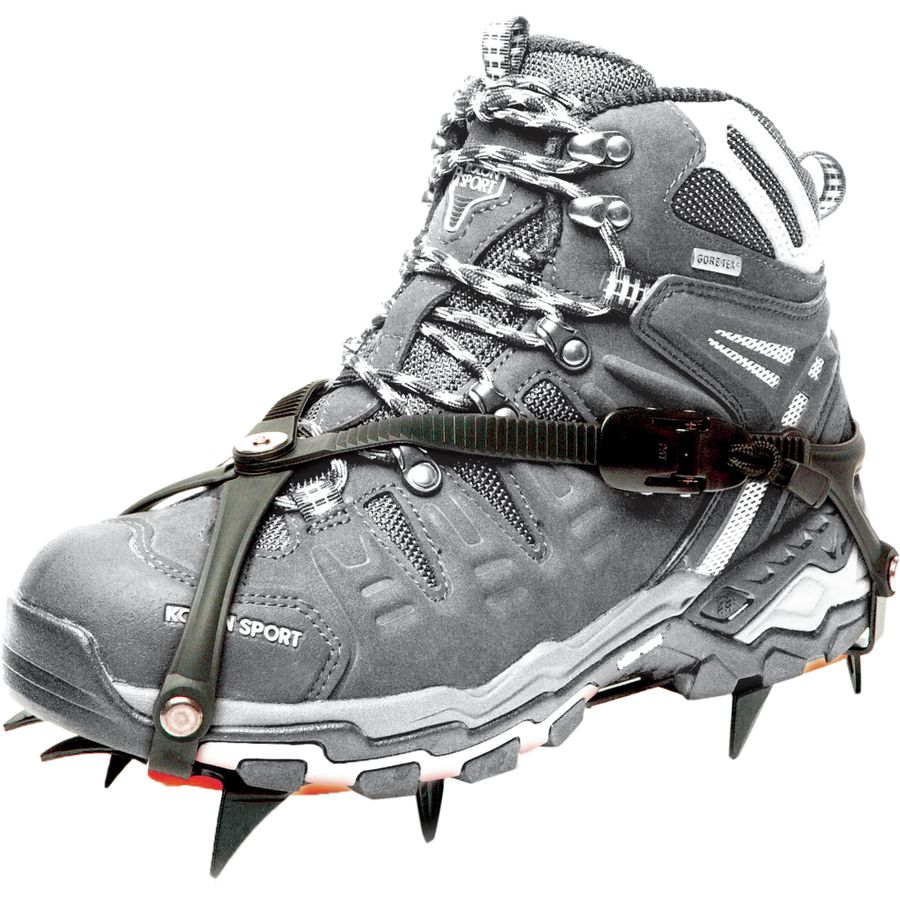 Admittedly this traction device goes by the name of crampon. However, they are quite similar in design to the Kahtoola MICROspikes, and they are one of the products that blur the line between microspikes and full-on mountaineering crampons.
Hillsound trail crampons are made with carbon steel spikes, stainless steel chains, and an elastomer harness. They weigh a few more ounces than the Kahtoola's but, at 1.5 cm (0.59 in) the spike length is slightly longer, which translates to a better overall grip.
Due to an ergonomic plate system, you can wear this traction device with minimized foot and ankle fatigue. You might not even feel as if you're wearing them! The Hillsounds are durable and can last you a long time with proper care.
However, the Hillsounds do come second to Kahtoola when it comes to ease of use, as the Hillsounds are more difficult to pull onto your shoe, especially when your hands are clumsy or weak from the cold.
Spike Length: 1/2 in (1.3 cm)
Materials: Elastomer/ Stainless Steel
Weight: ~12oz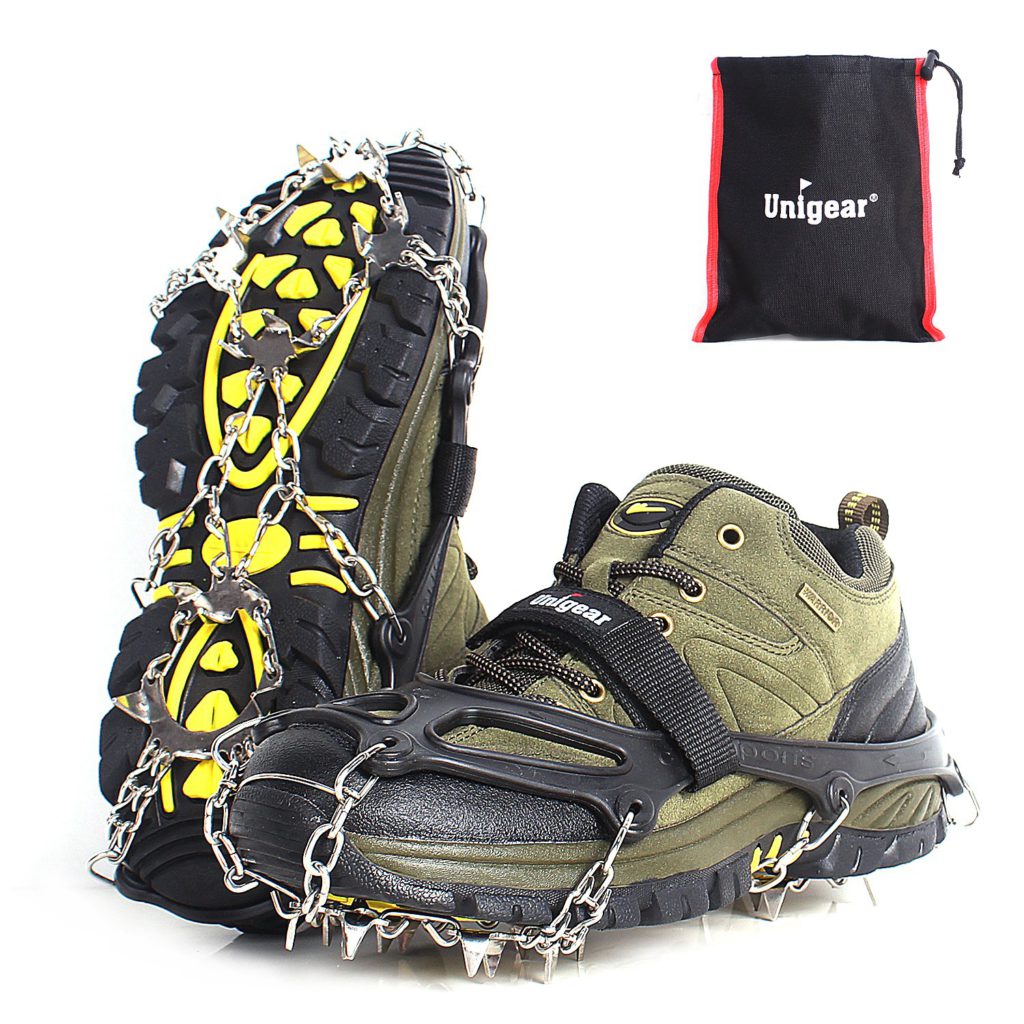 The Unigear traction cleats are a huge bang for the buck. If the price of the above spikes are a bit more than you can handle, consider these babies for just about half the price of either the Kahtoola MICROspikes or Hillsound Trail Crampons.
Unigear markets these cleats as 'heavy duty crampons' however that's going a bit far as they definitely fall into the microspikes category. The spike length is a teeny bit longer than Kahtoola's spikes, and they weigh a teeny bit more. They also feature 18 spikes per foot on the adult-sized device (13 for the kid's size).
The hooks on the elastomer harness make it just as easy to pull this device on and off your shoes, as the Kahtoola spikes. What's more, the Unigear cleats have a loop strap that secures the cleats over the top of your shoe or boot as well.
Unigear does not offer a warranty, however, they do have a 60-day guarantee where you can return your purchase for any reason within the time frame. So you better get out there and test them out as soon as you can!
Price Check Now
Final thoughts
All three of these traction devices could serve you well during your winter adventures but, overall, my top picks are the Hillsound Trail Crampons because they offer the best traction for an excellent price. But if the weight or the price is too high, I'd say to go with the Kahtoola's or the Unigear cleats respectively.
Remember that if you're looking to trek up some serious hills, these devices may not be good enough for you. I often see people complaining about their microspikes failing them when they're side-hilling it all over the backcountry or trucking up steep grades. And the reason is that they're trying to stretch them beyond the intended use.
If you're a diverse winter hiker, you may wish to purchase both microspikes and heavy-duty crampons and use whichever the conditions demand on any particular day.
If you have any questions, comments, concerns, or personal testimonials leave them in the comments below and I promise I'll get back to you!
Happy Winter Travelling!