Best Gloves for Winter Hiking
Best Gloves for Winter Hiking
Gloves can be a tricky topic. Because of changes in weather, activity level, variance in the tasks we need to accomplish, personal preference and even personal health issues (like Raynaud's disease) there is no one glove that simply checks all the boxes.
As a two foot traveller, you may spend all day, or even multiple days, out in the winter weather. As is the case with all your extremities, your hands can be quite vulnerable to the cold, and it can get pretty uncomfortable, even painful, if you're not prepared. So let's prepare by discussing some of the best gloves for winter hiking and how to wear them.
You don't just need gloves, you need a glove system
if you haven't heard, layering is pretty much ingrained into every aspect of outdoor apparel. Or at least it should be. If you're not layering, there's a good chance you're doing it wrong. The same goes for gloves. Systems, as opposed to just one pair of gloves, are versatile, and able to handle any situation from chilly to below freezing.
A glove system should be based on having three glove layers. These layers are no different from basic WISE layering practices and consists of a liner glove (wicking layer), an insulating layer, and an overmitt or shell layer.
We'll discuss all three layers in detail, however, depending on the environment where you're hiking and your own body you may not need to carry all three layers all the time.
Liner gloves
A liner glove is worn right next to your skin. This is your wicking layer and needs to be both lightweight and breathable. Your liner glove should be made from a material that can vent heat and perspiration. Some good liner materials include merino wool, nylon, polyester, or Gore-tex. You want to try to keep this glove as dry as possible and may need to bring a couple of pairs so you can change into dry ones if the need arises.
I prefer to use gloves, as opposed to mitts when it comes to liners because it preserves the dexterity of your fingers without having to take off your last line of defense against the cold.
Liner glove recommendations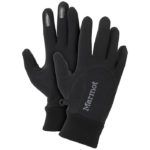 This is a great lightweight liner glove that stretches to fit perfectly to your hand and features finger grips. There are specific versions for men and women available. They are wind resistant and moisture wicking and weigh only 1.6 oz! Check them out here.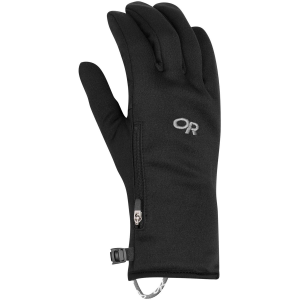 These gloves are pricier than the Marmot Power Stretch, but Outdoor Research is known for extremely high-quality products! What's more, the Versaliner gloves are more than just a liner, they also include a removable waterproof shell! Liner and shell together only weigh 2.8 ounces. If the conditions are not too cold, this could be the only glove you need. They also have a heat pack pocket if you need to up the warmth.
Amazon often has discounts, otherwise, we didn't find any significant price difference between retailers. Be aware that there are both men's and women's versions of this glove as well.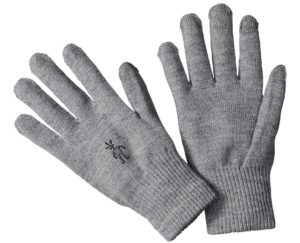 Smartwool liner gloves like these are always a great choice. Merino wool is a wonderful material because of its warmth, softness, and natural wicking capabilities. These are also a relatively inexpensive option!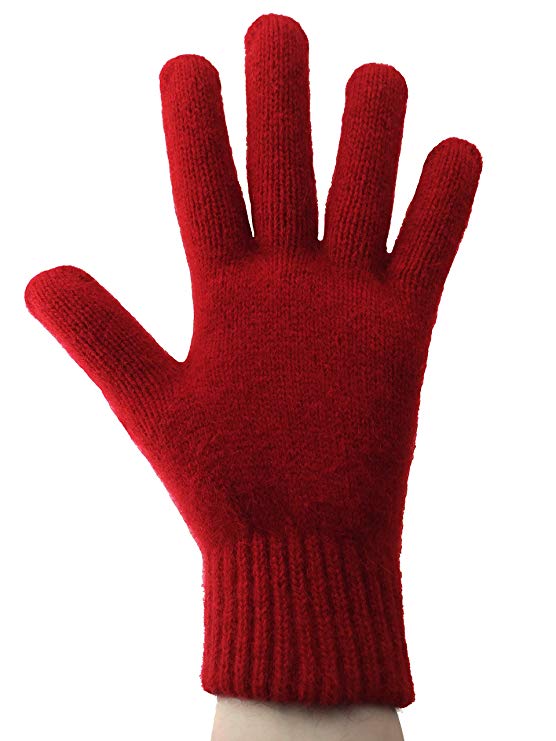 Possumdown blends merino wool with the unique fur of brushtail possums. Each brushtail possum fur is minuscule but contains a hollow center. This gives the fibers a pocket of air that, through the same principles of duck or goose down, increases the insulating capabilities exponentially!
These gloves are pricier, but they are warmer than straight merino wool, as well as lighter and more water resistant. Plus they come in all sorts of fun colors! Purchase them here.
Insulating/ Mid-Weight Gloves
The insulating layer is the down jacket of your hands. Think about how much warmer you feel when you're wearing a down jacket underneath your waterproof shell as opposed to just wearing the shell. It's the same for your hands. Put on your insulating gloves when it gets colder, wetter, windier, or when you stop for a break so you're not being kept as warm from your physical activity.
There are two ways you can go about this. You can either use a waterproof mid-layer which will help you avoid needing a final shell layer unless absolutely necessary, or you can use a non-waterproof insulator which will keep your hands from getting too sweaty.
If you expect conditions to be very wet, but not ridiculously cold it may be a good idea to go with a waterproof mid-glove. But, if your hands sweat a lot and you don't want to carry tons of extra sets of liner gloves. Don't use a waterproof insulating glove! Save the waterproofing for your overmitt.
Top mid-weight/ insulating gloves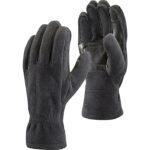 These gloves are made of fleece which is many hikers insulation of choice. The fleece is windproof, not waterproof but dries quickly. The palms are made of goat leather for a good grip and the pointer finger and thumb are smartphone compatible!
The best price for these gloves can usually be found on Moosejaw, for up to $10 less than some other retailers. As an added bonus it ships for free and you get a few reward dollars.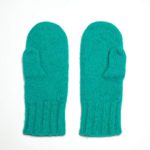 Boiled wool is a cool concept. You can get any pair of 100% wool gloves, boil them in water and then let them cool down to the point where you can put them on. Let them dry the rest of the way while you're wearing them. The wool will shrink as it dries and conforms perfectly to your hands! The shrunken wool is compressed and knit more tightly together which makes it quite a bit warmer.
If you don't want to do this yourself you can buy a quality pair like these Dachstein Austrian boiled wool gloves or mittens. But it'll be pricier than boiling at home.
These gloves are totally waterproof and windproof, yet still breathable. The fingers are pre-curved to give you increased dexterity. They're also smartphone compatible! The prices for the Sealskinz gloves are all across the board for different retailers. Prices are constantly changing but you can always find discounts on Amazon, sometimes half the price compared to some other retailers!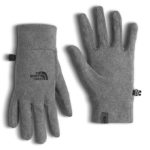 This is a great insulating glove that also has moisture wicking capabilities to keep your hands dry even when you sweat. They are also super light and a great price, so it's easy to pack multiple pairs if need be. There are different versions designed specifically for men and women which means the glove may fit you better than a unisex glove. The one drawback is that they are not smartphone compatible.
Retailer prices were all basically the same for these gloves. Check them out here!
Waterproof/ windproof shell
This is your final line of defense against the cold. These gloves should be oversized, to accommodate the other layers underneath them, as well as waterproof. As an added bonus, many of these shell layers or over mitts come with an insulating layer as well.
You will probably only need the shell if you plan on hiking or camping in very cold conditions, or if you suffer from poor insulation or Raynaud's.
Remember that mitts will keep you warmer than gloves because when your fingers are close together they can share body heat much more effectively.
Recommended shell gloves
These gloves are expensive but they are the cream of the crop. Recommended by nearly every outdoor gear reviewer, you can be sure that you are purchasing a quality piece of gear. The Gore-Tex membrane is both waterproof and breathable, the removable insulating liner is fantastic at wicking moisture away. You could likely get away with only using these gloves and forgetting the whole 3-layer system in all but the most extreme conditions. They also have a mitt version for a ridiculous amount of warmth!
You can find bargain prices for specific sizes on Amazon, and save some money if the size is right. Otherwise, purchase on REI or Moosejaw for a nice bonus in reward dollars.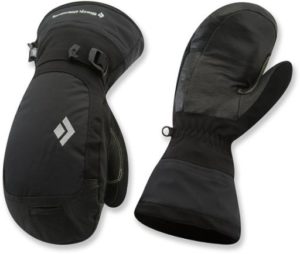 This mitt is comparable to the Alti mitt but for quite a bit cheaper. It's waterproof and has a removable insulating glove. The removable mitt is split-finger with a separation between your pointer finger and the rest of your fingers, so you can remove the shell to get some more dexterity without completely exposing your fingers to the elements.
I didn't find any difference in prices between retailers, but again, Moosejaw and REI both offer reward dollars on your purchase.
Final Tips
Pay attention to sizing: The last thing you want it to try to shove your hands into gloves that are too small to accommodate your layers. This will restrict blood flow and circulation and just make you colder than before. Your liner should be the size of your hand, your insulating layer one size bigger, and you shell one size bigger than that.
Dexterity: Think about what you will want to be able to do while wearing your gloves, and how cold will it be while you are doing them. Do you need to set up a tent wearing all three layers of gloves? Tie a knot? Use an ice ax? Whatever you do be sure you can open your water bottle.

Hand warmers: Some gloves come with built-in pockets for those amazing little chemical heat packs. These can be life savers for those who just can't get their hands warm or can't put hands in pockets due to ski poles, trekking poles, balance etc. If you don't get a glove with a pocket, just put the hand warmer right into your glove between the liner and the other layers.
Waterproof is a bit of a misnomer: In extremely wet circumstances, almost any glove is going to get wet eventually. Be prepared with multiple liners and insulating gloves if you think you're going to need them. (You will almost certainly need extra liners.) If you're on a multi-day hike, you can dry your gloves each night by placing them on your torso, underneath your clothing layers, as you sleep. Only try this if you are able to sleep nice and toasty. If you are struggling to stay warm through the night, using your precious body heat to dry your gloves is not a good idea!
Don't lose your gloves! Very high-quality gloves can also be very expensive. A simple yet brilliant trick to keep your gloves from falling by the wayside is to put them on a string that runs up through your coat sleeve and out the other. If you think it's silly, just wait until you drop one of your $100 gloves and don't notice until it's too late. You'll wish you'd done it.
Leave a comment below: Do you own any of these gloves? Please leave us your opinion's and recommendations below.
And, as always, if you have a question, concern, or a good joke (preferably one about gloves, let's keep to the theme here people) please leave a comment, as well.
Please follow and like us: