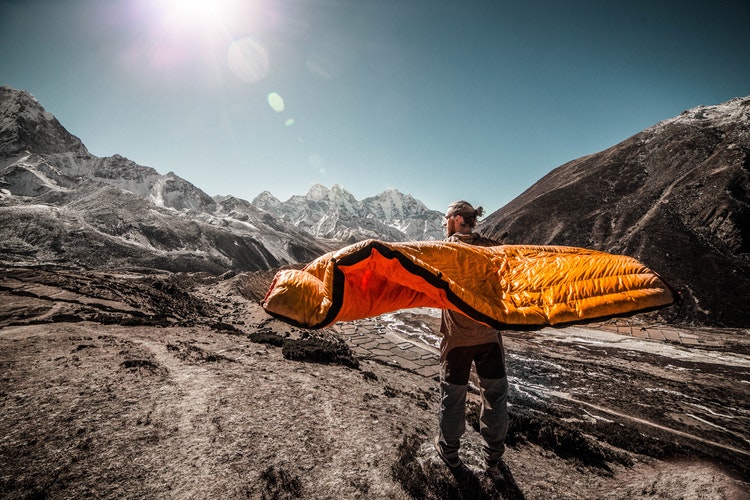 Best Budget Sleeping Bags for Under 100 Dollars
Best Budget Sleeping Bags for Under 100 Dollars
We discussed the cream of the crop when it comes to sleeping bags in a couple of previous posts1. And if you've got the money to shell out for it, there's no doubt that any of those sleeping bags will blow almost anything else out of the water when it comes to warmth, performance, and comfort.
However, even the cheapest of them clocked in with a price of over $200. I know that not everybody has that kind of money lying around, but your two feet are still itching to go travelling. So this post is dedicated to the best budget sleeping bags of 2019.
There are tons of quality sleeping bag models out there. But the goal here is to find the best sleeping bags for under 100 dollars or close to it. So I went through the list and slashed out anything with a price tag much bigger than a Benjamin. Prices often fluctuate over time so be sure to check all the links and find the best current price!
Don't try to compare these bags to any $300 and $400 bags. But, these are the shining stars of the budget class and, depending on your personal style, could be everything you've ever wanted or needed in a sleeping bag!
Temperature Rating: 20º F Lower Limit | 30º Comfort
Insulation: 600 fill power water-resistant down
Weight: 2lb 9ozP
Favorite features: Down filling for a great price, large size for unrestricted sleep
Potential Cons: May not keep you comfortable at lower temps depending on if you sleep warm or cold
---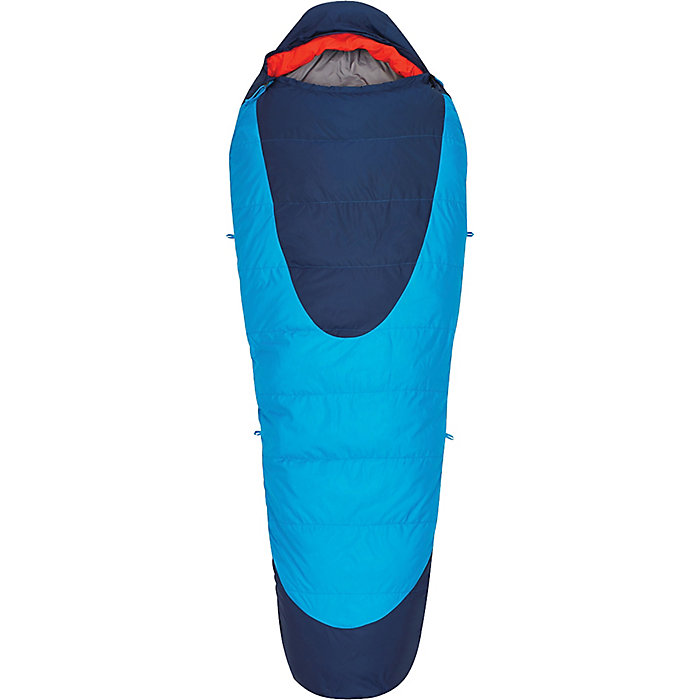 Kelty is a rock solid brand in the sleeping bag industry. Their sleeping bags come in all shapes, sizes and fills and they have some excellent down bags in the near $100 range. Down is by far the preferred fill for anyone who cares about warmth and packability. But it can get expensive!
It's pretty difficult to find a quality down bag anywhere near $100 but Kelty made the magic happen with the Cosmic 20. There are both men and women versions of the Cosmic and both are three season bags that'll keep you toasty down to the 20º range.
The Cosmic 20 is pretty roomy for a mummy bag, making it a nice choice for larger hikers. Made with 600 fill power, water resistant, dri-down this bag doesn't immediately lose all insulating power upon getting wet as some other down bags do.
The regular size bag stuffs down to 8X14 inches, which is only slightly larger than most of the 3, 4 and 5 hundred dollar premium sleeping bags we reviewed in a previous article and weighs 2 lb 9 oz. Overall, the compressibility, weight, reliability, and warmth for the price is phenomenal!
There's not a whole lot of Cosmic 20s left on the market right now so hurry and grab one before they're out of stock across the board!
Check below to find the best price.
Temperature Rating: 34º F Lower Limit | 42º Comfort
Insulation: Thermal.Q Thermic Micro Synthetic Insulation
Weight: 2lb 1 ozP
Favorite features: Stuff size and weight are excellent for a synthetic bag! Synthetic insulation does better in wet conditions.
Cons: Synthetic insulation's warmth vs. packability ratio is not quite as good as a down bag, although the Lamina Z gets darn close!
---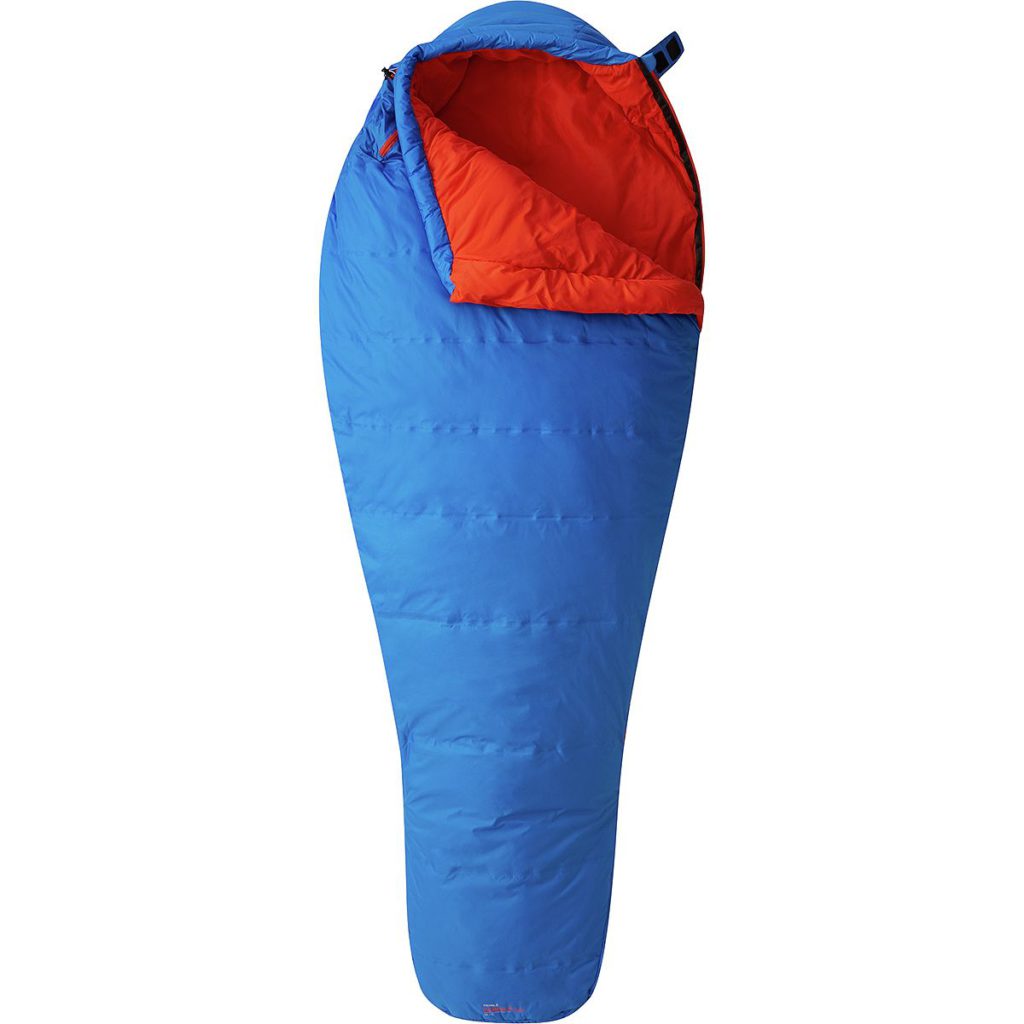 The Lamina Z is a great 3 season bag especially for those who expect to encounter wet environments. Unlike down, synthetic insulation retains its ability to keep you warm even when it gets wet. And this sleeping bag features a water-resistant shell as well.
This synthetic bag packs down surprisingly well to fit into a 6 X12 inch stuff sack. Yeah, I could hardly believe it either but it's true! The sub $100 price tag is easy on the wallet and you might even be able to score a 20º rated Lamina Z at Amazon or the women's model on Backcountry for less than you can buy the 34º bag elsewhere. Snatch those up before someone else does!
The Lamina Z features a welded design that allocates extra insulation to the areas you most need it, like your core and feet, and provides a high amount of loft to keep you warm. It's basically got all the desirable features of a down bag and improves upon it through its water resistance. You can be sure you'll have a toasty, comfortable night camping with this sleeping bag.
Temperature Rating: 0º F Lower Limit | 15º Comfort
Insulation: Synthetic
Weight: 4lb 8.5oz
Favorite features: Killer price for that level of warmth!
Cons: Only comes in one size, heavy
---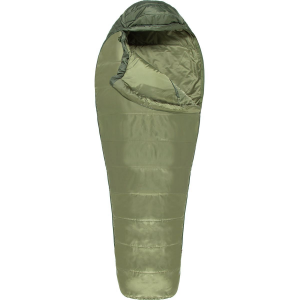 This sleeping bag is a Backcountry exclusive and warmth to price ratio is mind-blowing! It's pretty much unheard-of to find a 0º bag for anywhere near $100 price tag. But now you've heard of it, because that's exactly what you get with the Backcountry Montana.
The Backcountry Montana is the only sleeping bag on this list that can be used in all four seasons. It'll keep you warm in winter with its 3 pounds of synthetic insulation that will stay warm even when it gets damp. The draft collar and draft tube also serve to lock the cold air out before it can sap you of that hard-earned warmth.
Don't be afraid to take the Montana on summer outings either! When the seasons change and you start getting too toasty, just unzip the sleeping bag and keep using it. A large amount of insulation makes for a cushy, comfy nights sleep.
Get it on Backcountry. And, if you prefer to save even more cash, you can buy the 20º version.
Temperature Rating: 20º F Survival | 40º Comfort
Insulation: PolarLite Micro insulation
Weight: 3lb 8ozP
Favorite features: Cheap! Inside pockets on both sides for electronics or other small items, able to fit taller people comfortably
Cons: Heavier and less compressible
---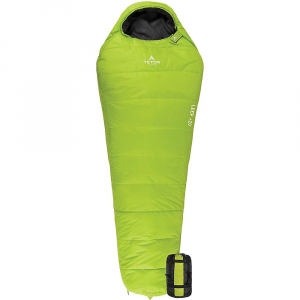 We're digging deep into the bargains now. And if $60 – $75 isn't a bargain price then I don't know what is. And yet, the Teton Sports Leef is not the typical bargain quality that you might expect. It is a well put together 3 season sleeping bag you can trust to keep you warm and comfortable.
The Leef features a 3-piece hood designed to fit like a glove (a face glove?) and keep pesky drafts out of your bag while still allowing you to breathe easily. A full-length draft tube and extra insulation in the foot box serve to keep you warm where you need it the most.
The Leef is on the tall side so it is a great pick for taller backpackers or people who like some extra room in the foot area. Check Moosejaw for sales. You can also find all the sizes here.
Temperature Rating: 32º F
Insulation: 650 Fill Power Duck down
Weight: 1.9lbP
Favorite features: One of the lightest most compressible sleeping bags you can find in the $100 range
Cons: Shell fabric is not as durable as some other bags
---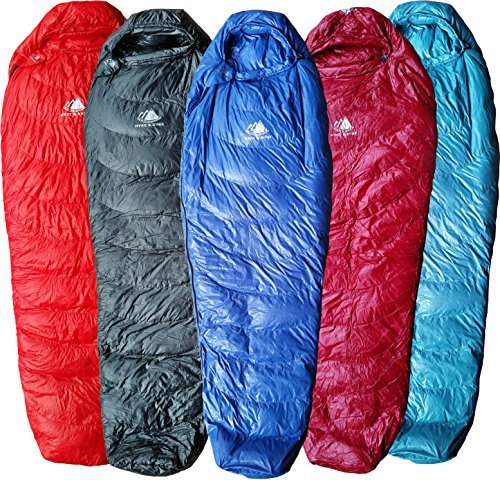 We need more budget down bags in our lives! It's hard to find down in the $100 range but we've got a couple more up our sleeves! First up is the Hyke and Byke Shavano which comes in at about $120 dollars. This is pushing our $100 limit but we couldn't help ourselves when it came to this bag.
Hyke and Byke makes a number of quality, affordable, super packable down bags and the Shavano is its lightest weight offering. Hyke and Byke bags come with a number of features that are more typical of sleeping bags in a price range upwards of $200. Among these features are baffles, dual-zippers that allow you to open the bottom to vent while still keeping it zipped around your upper body, a lifetime warranty, and a sub 2lb weight.
The Shavano has 650 fill power down compartmentalized in horizontal baffles with a channel running along the left side that allows you to shift the down around the bag to where you need it most.
You will love the loft, packability, and weight of this bag! They also have a 15º option for only $30 more if you're looking for twice the fill and twice the warmth. As an added bonus, Hyke and Byke bags come in more color options than almost any other sleeping bag on the market. You can find this sleeping bag on Amazon but you can get a sweet deal if you purchase directly from Hyke and Byke's website.
Temperature Rating: 30º F
Insulation: 550+ Fill Power Down
Weight: 2lb 11oz
Favorite features: Roomier than the Shavano, 2-person compatible if you buy a right and left-hand zip
Cons: A little on the heavy side for its temperature rating
---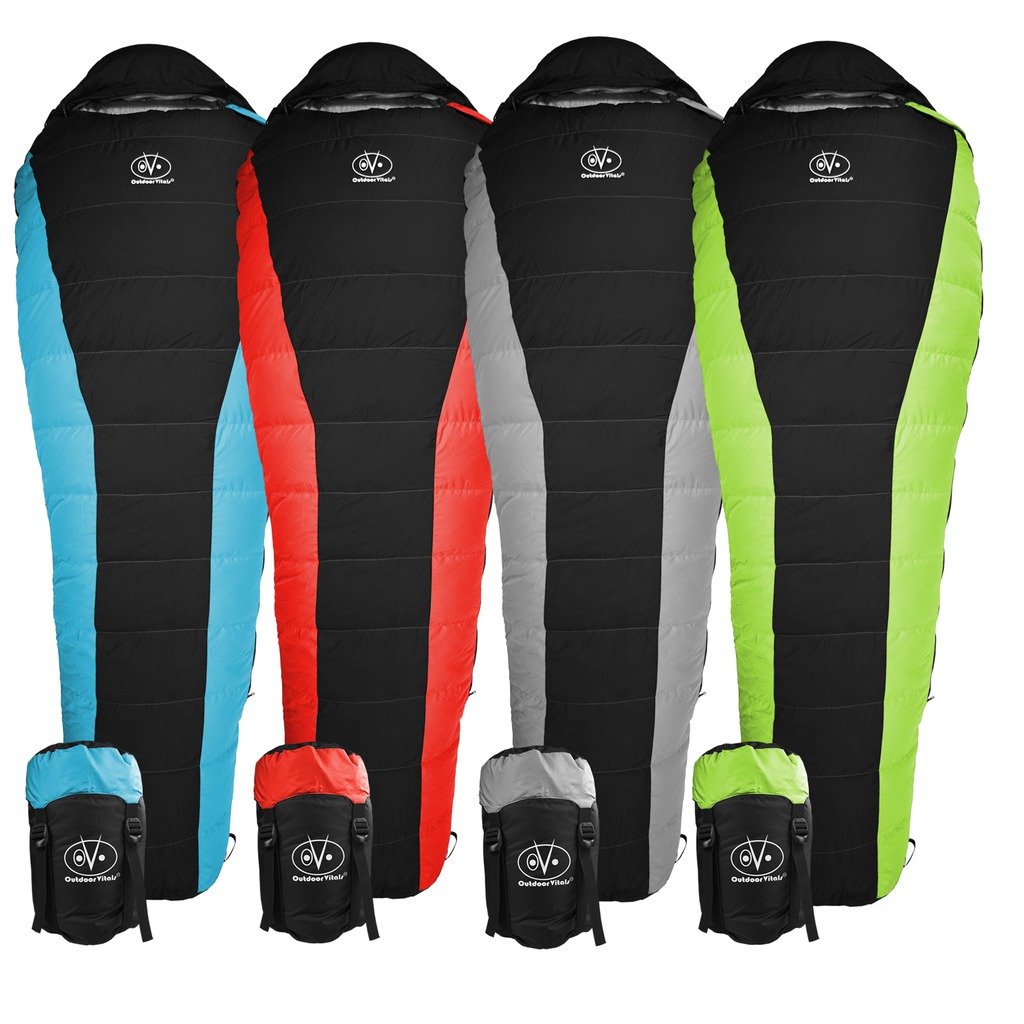 Last, but not least, of our down filled sleeping bags is the Outdoor Vitals Atlas 30º sleeping bag. Outdoor Vitals is a relatively new company founded on the basis of living ultralight. They believe that the world benefits when we consume less, by using premium products that last longer. They also cut costs through direct sales and donate 1% of all sales revenue to people in need in developing countries.
The Atlas 30º is their most affordable down sleeping bag. The 30º rating is a conservative benchmark that is better thought of as a comfort rating rather than a survival one. Depending on your sleep style you may be able to push that limit down 10º or so.
The weight is a bit bulkier than a lot of similar down bags and, in fact, is even bulkier than the synthetic Lamina Z, which is a bit of a bummer. However, the Atlas will likely keep you warmer than the Lamina.
The Atlas is also much more durable than the Hyke and Byke Shavano, which is probably one factor that contributed to its higher weight. It also comes with a limited lifetime warranty.
Click here to purchase directly from Outdoor Vitals. They also have 15º models and refurbished bags available. The refurbished items have been inspected, repaired, and still include the lifetime warranty so they're a great way to save a few bucks that you can then use on another piece of gear as you build your arsenal.
Temperature Rating: 20º F
Insulation: Slumberloft Synthetic Insulation
Weight: 3lb 7oz
Favorite features: Dual-zip, wider shape allows for more movement during sleep
Cons: Heavier, not as compressible
---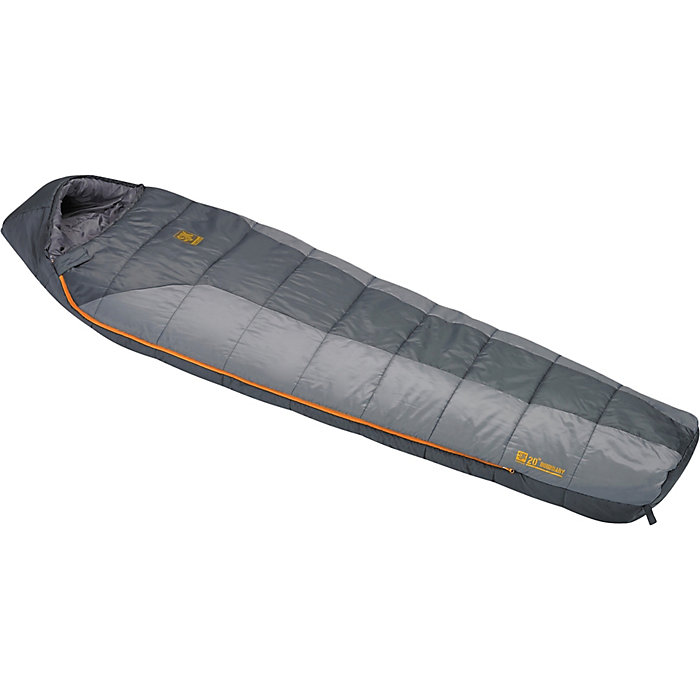 We'll end with the cheapest bargain on the list. A super bargain if you will. And though the price is cheap, the construction of this Slumberjack is not.
I love the dual-zipper feature which can be difficult to find in sleeping bags of this price range. If your feet get claustrophobic like mine sometimes do, you can open the bottom and kick a leg out without sacrificing the warmth of the rest of your body.
Slumberjack's Boundary is heavier than most other bags on this list, but it's not terrible. Some people would try to tell you not to use a bag like this for backpacking, but I can say, from personal experience, that it's not bad for a quick trip. You may benefit from purchasing a separate compression sack as the one included doesn't really compress.
The wider cut of this bags mummy shape allows you to have more freedom of movement during sleep, but it also means you may get colder. The Boundary features draft tube, draft collar and a flip-over-hood that you can change between flat or contoured cur depending on your preference and the current weather. Treat the 20º temperature rating as a survival rating, not a comfort rating.
You can find an excellent price for both the regular and long size on Moosejaw. There is also the option of a women's specific bag with a slightly smaller cut and added insulation because women tend to sleep colder than men.
Final Face-Off
If you're looking to quickly compare features of each of the budget sleeping bags on our list, then look no further! Use the comparison table below. The table is based on the regular size for each sleeping bag. Most of these bags come in a long version as well, which may have different dimensions, weights, and pricing.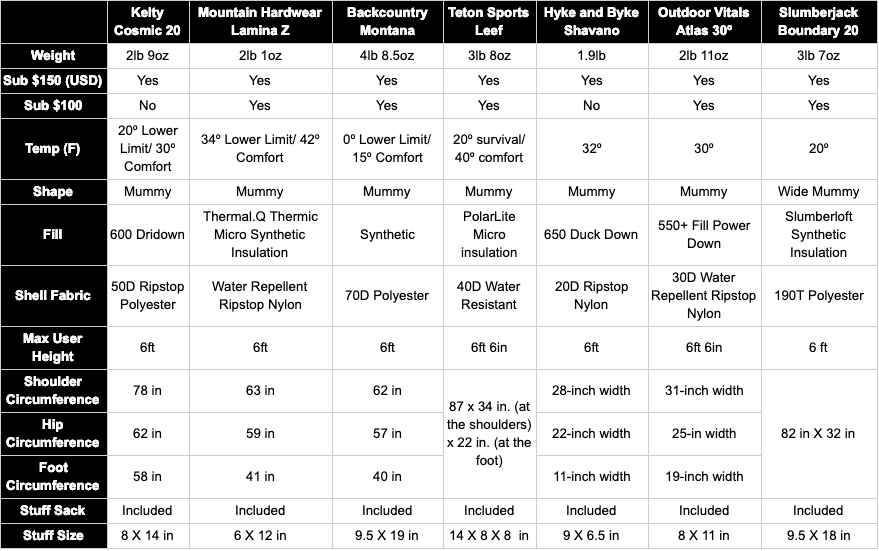 If you have any questions, comments, or personal testimonials about your experience with these or similar sleeping bags, please let us know in the comments below!
Please follow and like us: